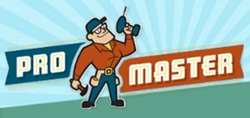 Cincinnati, OH (PRWEB) November 21, 2014
Before hanging holiday lights and struggling to get Rudolph on the roof, learn how to prevent a trip to the ER this holiday season with ProMaster Home Repair and Handyman's informative guide to holiday decoration safety. ProMaster is a Cincinnati-based home repair service that serves clients in the greater Cincinnati area.
The guide, available on ProMaster's website here, is being offered to the public as a means of promoting better safety during the holiday season. Don Kennedy, being a dedicated family man and professional holiday decorator is offering the guide to the public to ensure that people in the Cincinnati area spend time enjoying the holidays at home and not in the emergency room.
The holiday safety guide covers numerous topics relating to safe holiday decorating including fire prevention, electrical precautions, and ladder safety. The guide also contains tips for taking down holiday decorations once the season is past. Complete with a few humorous references, the guide makes for an easy, enjoyable read for anyone getting ready to deck the halls.
The U.S. Consumer Product Safety Commission (CPSC) estimates there will be more than 12,500-plus serious injuries involving holiday decorating seen in emergency departments nationwide during November and December. This estimate is based on data from 2012 and does not even account for minor injuries. The most common injuries from holiday decorating are falls, lacerations, and back strains.
Keeping Christmas trees thoroughly watered, making sure open flames are closely attended, and taking extra care while on ladders were among the top suggestions by the CPSC. These tips and more are covered in detail in ProMaster's holiday safety guide.
The guide stresses that even if proper physical safety measures are enacted there are still hazards to holiday decorating that homeowners may not have considered. For example, making sure that a home's electrical system is equipped to absorb the extra demand during the holidays is an essential, if not particularly evident, protocol. Making sure that lights and other outdoor decorations have been tested by an independent lab is also an important step according to the guide. While any layman is certainly capable of doing their own holiday decorating, the guide suggests that at least some aspects of the task should be left to professionals.
ProMaster Home Repair & Handyman of Cincinnati offers carpentry, home repair, home remodeling, and handyman services. Read their holiday safety guide named 'Preventing Holiday Lighting Horror' on their website at http://www.MasterMyList.com/ and contact them by email at service(at)mastermylist(dot)net or by phone at (513) 322-2914.