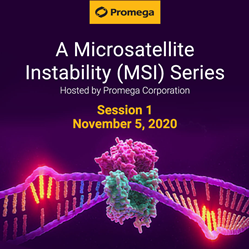 MADISON, Wis. (PRWEB) November 03, 2020
Promega Corporation, a provider of innovative solutions for molecular diagnostics, clinical research, life sciences, and human identification, today announced its A Microsatellite Instability (MSI) Series with the first session hosted on November 5, 2020 at 10:00 AM CST. Serving as a unique and valuable opportunity to dive into the world of MSI characterization (having been routinely performed for almost two decades), attendees will learn a vast amount of new information.
A Microsatellite Instability (MSI) Series, Session 1 will include:

The history, techniques, and current trends of MSI testing
Different testing strategies for MSI and mismatch repair deficiency
The rapid advancement in research around MSI as a pan tumor biomarker for immunotherapeutic response
Why MSI status is an increasingly relevant tool in genetic- and immune-oncology, and why it should be a universal testing approach
Produced on LabRoots' robust platform, connecting you across all desktop and mobile devices, Promega's first session has three speakers that have been approved for Continuing Education Credits.
To view the full agenda, please click here.
About Promega:
Promega Corporation provides innovative solutions for molecular diagnostics, clinical research, life sciences, and human identification. With a portfolio of more than 4,000 products, Promega has a breadth of solutions spanning the clinical laboratory's workflow and cGMP OEM solutions for diagnostic manufacturers. Promega is a trusted partner, with more than 40 years of manufacturing experience, to supply the robust and reliable solutions you need for your molecular assays.
About LabRoots:
LabRoots is the leading scientific social networking website, and primary source for scientific trending news and premier educational virtual events and webinars and more. Contributing to the advancement of science through content sharing capabilities, LabRoots is a powerful advocate in amplifying global networks and communities. Founded in 2008, LabRoots emphasizes digital innovation in scientific collaboration and learning. Offering more than articles and webcasts that go beyond the mundane and explore the latest discoveries in the world of science, LabRoots users can stay atop their field by gaining continuing education credits from a wide range of topics through their participation in the webinars and virtual events.