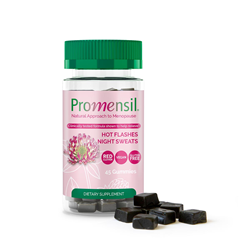 SAN DIEGO (PRWEB) April 20, 2021
Promensil is releasing a first-of-its-kind gummy supplement designed specifically to help reduce the symptoms of menopause. Gummies are one of the most popular forms of health supplements on the market today and some of the easiest to take. Now, people going through menopause can address their symptoms with the ease and simplicity of chewing a gummy or two a day.
Promensil is a trusted menopause brand that utilizes the powerful benefits of red clover for natural relief without hormones. The new product launch means Promensil's clinically tested formula, currently available in tablet form, is now available in an easy-to-take gummy.
Made with 4 key isoflavones derived from whole red clovers, these gummies may help reduce the frequency and severity of hot flashes, night sweats, sleeplessness, vaginal dryness, and brain fog. They may also help support mood, heart, breast, and bone health.
Red clover is a flowering plant with powerful benefits. It contains isoflavones, a type of phytoestrogen which has a similar chemical makeup to estrogen. Estrogen levels can plummet during menopause, causing the symptoms so many are familiar with. Promensil may help reduce these symptoms naturally.
Promensil gummies contain 80mg of isoflavones in 2 gummies, are pectin-based and vegan friendly, and are Blueberry Lavender Tea flavored.
Promensil gummies are available in 45-count bottles for $34.99. They are available for purchase now on Amazon and at RealHealth.com.
About Promensil
Promensil is committed to the health and wellbeing of people around the world by providing natural relief from menopause symptoms. Promensil is part of the Real Health brand of products. Learn more at RealHealth.com. Follow us on Instagram @PromensilHealth.
About Real Health
Since 1994, Real Health has worked to provide solutions to improve the health and well-being of individuals and families. We strive to offer only high-quality solutions for specific and general health needs following our mission of combining science and nature. We are committed to the long-term health and happiness of all of our customers whether through our comprehensive, research-based formulations or our stringent quality control standards. Each day we strive to provide our customers with the best nutrition to help enhance their quality of life. Learn more at RealHealth.com.