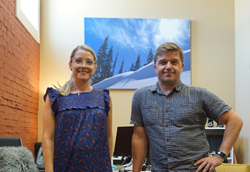 In today's technology landscape, we are seeing that our clients and their customers expect more from their websites
CHICAGO (PRWEB) November 13, 2018
In September 2018, Promet Source acquired DAHU Agency, a strategy-focused, user experience and design agency that enhances the services offered to its clients. By expanding their services in UX and UI, and bringing new offerings in-house for digital strategy, WordPress development, messaging, and branding – Promet aims to better serve their clients evolving needs as marketing and web technologies continue to converge and the need to provide functional, dynamic websites increases.
In his vision for Promet to be a strong digital agency focused on creating great user experiences through meaningful web applications, Andy Kurcharski, President of Promet, seeks to accelerate growth and innovation by providing comprehensive digital services to his clients. Andy has more than 20 years of technical leadership experience from startups to Fortune 50 firms with industry experience in banking, telecommunications, government, and association technology management. Andy's e-commerce experience dates to 1998 with the implementation of highly scalable enterprise solutions.
"In today's technology landscape, we are seeing that our clients and their customers expect more from their websites" Kurcharski expressed. "Our addition of a new team to our existing core of web developers will help us to proactively approach new websites with a holistic mindset combining our technology expertise with great design and function to ultimately increase client success online."
DAHU Agency, based in Dallas, Texas, not only provides Promet with an office central to service their clients in the Southwest region, but also brings expertise in design and digital strategy to help optimize user experience within an organization's website.
Mindy League, CEO and founder of DAHU Agency, offers a highly thoughtful and adaptive approach to constantly evolving technologies and user behaviors. Her experience in building solutions for clients such as HP, Emerson, IBM, and Home Depot, contribute to a depth of perspective into the challenges and opportunities faced by top global brands. Mindy will join Promet as the Director of User Experience and Design.
DAHU's distinct approach to engaging with clients has been described as "radical empathy" and it is this philosophy and mindset that complements Promet's dedication to delivering groundbreaking results to their clients. Whether examining the impact of corporate strategies on customers and the broader enterprise, or developing products, Promet aims to step into their clients' businesses with a fervent dedication to excellent experiences and high-impact results.
Promet Solutions was founded in 2003 and is a web design and development company specializing in open source solutions for government, higher education, and association/nonprofit clients. With headquarters in Chicago, and offices in Cebu, Promet Source is a comprehensive web development agency that offers custom design, implementation, and full support to its clients.