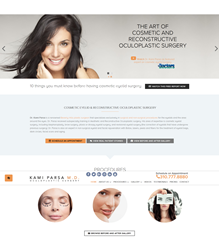 Knowledge is an invaluable tool. The more we know about your skin, the better the treatment plan we will be able to provide to achieve the best results and prevent further damage. If you want to know precisely what your skin problems are, then VISIA is for you, says Dr. Parsa
BEVERLY HILLS, Calif. (PRWEB) November 10, 2020
Dr. Kami Parsa is well-known for his expertise in aesthetic and oculoplastic surgery, earning numerous awards as a top Beverly Hills' plastic surgeon. Believing that everyone deserves access to premier skincare and facial rejuvenation technology, he has recently acquired the state-of-the-art, 7th Generation VISIA Complexion Analysis System by Canfield Scientific, Inc. The all-new VISIA Complexion Analysis System uses multi-spectral images and analysis of the skin, giving a clear, multi-dimensional insight into the individual aspects of a patient's complexion. A newly designed capture module rotates smoothly around the subject's face, and the updated software obtains images faster with automatic skin type classification, refined facial feature detection and more.
With one 15 to 20 minute session on the newest VISIA system, the advanced multi-spectral imaging and analysis tools capture crucial visual information with respect to eight areas that affect the health and look of skin: spots, wrinkles, texture, pores, UV spots, brown spots, red areas and porphyrins (presence of bacteria in pores). The comprehensive information obtained will help Dr. Parsa and his team suggest optimal treatments and skincare regimes to provide the greatest benefit. Patients will get an extensive and detailed report on their skin, with photographs and recommendations for regeneration, rejuvenation or the treatment of skin conditions. The VISIA computer stores each patient's details, allowing clients to monitor their progress from treatment to treatment.
"Knowledge is an invaluable tool. The more we know about your skin, the better the treatment plan we will be able to provide to achieve the best results and prevent further damage. If you want to know precisely what your skin problems are, then VISIA is for you," says Dr. Parsa
More about Dr. Kami Parsa:
Kami Parsa M.D. graduated with honors from the University of Southern California School of Medicine and completed a residency in ophthalmology at USC's Doheny Eye Institute. He then finished a two-year sub-specialty fellowship in oculoplastic and reconstructive surgery at the University of Miami's Bascom Palmer Eye Institute. Dr. Parsa is a clinical professor at USC's Department of Ophthalmology and the Department of Plastic Surgery. At both his Beverly Hills practice and MedSpa, he specializes in surgical and non-surgical procedures for areas around the eyes and also performs a full menu of cosmetic and reconstructive services. Dr. Parsa's practice is located at 465 N. Roxbury Dr. Suite 1011 in Beverly Hills, CA.
For more information on the new VISIA Complexion Analysis System or other cosmetic and reconstructive options offered by Dr. Kami Parsa, please call his Beverly Hills clinic and MedSpa at (310) 777-8880, or visit his website at http://www.oculoplastic.info.