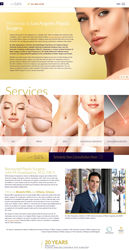 Ideal candidates are those in their 30s, 40s or 50s, with minimal sagging skin, who want to get in front of the aging process. It also can help someone who had a prior facelift and requires additional lifting, but it is not for someone with excessively sagging skin. says Dr. John M. Anastasatos
LOS ANGELES (PRWEB) May 11, 2021
At Los Angeles Plastic Surgery, Dr. Anastasatos is widely known as one of the top professionals in his field, earning global recognition for his beautiful surgical results. Patients who notice an aging jawline with a loss of sharpness, cheeks flattening, laugh lines becoming longer and deeper and the corner of the mouth having a downward "sad" appearance, may benefit from a facelift. However, many of these patients exhibiting these signs of aging are afraid of the long recovery and the classic scars in front and behind the ears with typical facelift procedures. Dr. Anastasatos' percutaneous facelift is a minimally invasive, innovative and natural-looking facelift that can be completed in less than an hour.
The tool used for the facelift resembles a knitting hook and was uniquely designed by Dr. Anastasatos' mentor and renowned plastic surgeon, Dr. Louis Vasconez. The special curved instrument follows the natural curvature of the cranium, which allows for a minimally invasive technique, resulting in no scarring on the face or behind the ears. The procedure can be completed while the patient is awake under local anesthesia, depending on the patient's needs and desires. Since the procedure can be performed under local anesthesia, this avoids the additional downtime and risks associated with general anesthesia. Additionally, when the patient is awake and alert, the surgeon can control the level of optimal lift. Because of the percutaneous lift's minimally invasive technique, there is also minimal downtime and swelling.
"Ideal candidates are males or females in their 40s or 50s, with minimal sagging skin, who want to get in front of the aging process. It also can help someone who had a prior facelift and requires additional lifting, but it is not for someone with excessively sagging skin," says Dr. John M. Anastasatos
More about Dr. John M. Anastasatos:
Dr. Anastasatos offers a full menu of services to improve one's appearance from head to toe, with gold-standard facelifts, advanced breast augmentations, body lift procedures and non-surgical treatments. Dr. John Anastasatos trained at Brown University Medical School, Columbia University-Presbyterian Medical Center and The University of Alabama at Birmingham (UAB). Dr. Anastasatos is also a former assistant professor of plastic surgery at UAB. He is certified by the American Board of Plastic Surgery and is an active member of the American Society of Plastic Surgery and the American Society of Aesthetic Plastic Surgeons. He serves as an expert reviewer for the Medical Board of California and has been recognized by the United States Congress for his work in plastic surgery and charity.
To schedule a consultation with Dr. John Anastasatos or for more information about practice locations in Beverly Hills and Bakersfield, CA, or Athens, Greece, please call (310) 888-4048, or visit his website at http://www.LosAngelesPlasticSurgery.com.