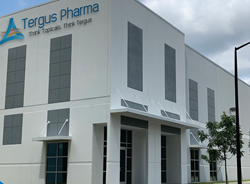 DURHAM, N.C. (PRWEB) May 11, 2021
Tergus Pharma, the leading topical Contract Development and Manufacturing Organization (CDMO) with proven topical expertise, will officially open its new, 100,000 sq. ft. headquarters and commercial manufacturing facility with a ribbon-cutting ceremony on May 13, 2021.
The event will be attended by North Carolina Attorney General Josh Stein, NC Biotech Center President & CEO Doug Edgeton, senior executives from Tergus Pharma, members of its board of directors, and other dignitaries.
"This event marks a significant turning point for us," said Tergus Pharma Chairman and CEO, Dr. Vijendra Nalamothu. "And the growth spurred on by this facility will create new jobs and business opportunities for the counties of Durham, Wake, and the state of North Carolina. We are proud to be a part of the pharmaceutical success story here in the Triangle area of North Carolina."
The building houses Tergus' corporate offices, three state-of-the-art research and development laboratories, six commercial GMP manufacturing suites, six filling and packaging suites, and two dedicated HPAPI and hormonal suites.
Tergus Pharma's long-term vision in Research Triangle Park (Durham, NC) is to become the largest topical drug product contract development and manufacturing company in the United States. To realize this vision, Tergus is working closely with the state of North Carolina, the Durham Chamber of Commerce, and the NC Biotechnology Center. Tergus is currently hiring for several positions including process engineering, project management, research & development scientists, and several support functions.
About Tergus Pharma
Tergus Pharma is an end-to-end service provider for topical pharmaceutical products supporting early phase research and formulation, drug development, testing, and both clinical and commercial manufacturing at our new 100,000 sq. ft. state-of-the-art facility in Durham, North Carolina. Tergus is the industry leader for topical/skin semi-solids and liquids as well as other non-skin semi-solids/liquids for vaginal, rectal and otic/ophthalmic routes of administration where we recognize the value of our stellar industry reputation for delivering quality results to clients. With industry-recognized leadership and expertise in method development, such as IVRT/IVPT for topical pharmaceuticals, Tergus also provides clients with peace of mind and helps them to de-risk their product development. Exclusively focused on topical development and manufacturing, Tergus brings the scientific expertise that helps our clients achieve the right balance of scientific knowhow, speed of results, and quality in product service, warranting our company motto, "Think Topicals, Think Tergus."
For more information, please visit
https://www.TergusPharma.com/