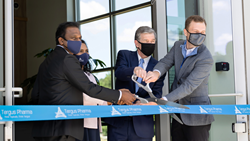 I'm delighted to be here today to celebrate not only Tergus Pharma, but also to celebrate North Carolina's ecosystem of innovation, entrepreneurship, biotechnology, and life sciences. (Gov. Roy Cooper)
DURHAM, N.C. (PRWEB) May 24, 2021
Tergus Pharma, the leading topical Contract Development and Manufacturing Organization (CDMO) with proven topical expertise, officially opened its new, 100,000 sq. ft. headquarters and commercial manufacturing facility with a ribbon-cutting ceremony on May 13, 2021.
The event features speeches by North Carolina Gov. Roy Cooper, North Carolina Attorney General Josh Stein, NC Biotech Center President & CEO Doug Edgeton, and was attended by senior executives from Tergus Pharma, members of its board of directors, and other dignitaries.
"This event marks a significant turning point for us," said Tergus Pharma Chairman and CEO, Dr. Vijendra Nalamothu before the event. "And the growth spurred on by this facility will create new jobs and business opportunities for the counties of Durham, Wake, and the state of North Carolina. We are proud to be a part of the pharmaceutical success story here in the Triangle area of North Carolina."
The first speaker at the event was North Carolina Utilities Commissioner and former North Carolina Senator Floyd B. McKissick. "I can't believe that literally in less than a decade you've gone from a four thousand square foot building and four employees to a hundred-thousand square foot, modern, state-of-the-art facility with offices that are truly impressive. That type of growth, that type of imagination, that type of vision—and to become a leader when it comes to topical pharmaceuticals in our entire country—is truly, truly impressive. It's what the American dream really is all about," he remarked before introducing North Carolina Gov. Roy Cooper.
Gov. Cooper spoke about celebrating not only Tergus' grand opening, but also North Carolina's ecosystem of innovation and entrepreneurship in biotechnology and life sciences. "When you look at the synergy that we have in biotechnology here in North Carolina, you know that we are the place to be. When you look at the quality of life, when you look at the amazing workforce, when you see our great universities both public and private, along with our community colleges, you know that this is the place to be," he said before talking about the importance of investing in education and job training in North Carolina. "We're on a hot streak, folks, and it's going to keep going as long as we can keep the talented workforce available for companies like this that are growing and thriving in North Carolina."
North Carolina Attorney General Josh Stein followed Gov. Cooper at the podium. "Tergus Pharma is making this investment because it, like so many other companies, knows that the people of North Carolina are worth investing in," he said. "We want to continue to make sure that North Carolina is as safe and strong as it can be so that we can continue to be a good home for people and for businesses like Tergus. I look forward to being your partner in this work in the months and years to come. We're all hungry for good news these days, and I want to thank Tergus Pharma for providing it."
Next at the podium was Geoff Durham, President and CEO of the Greater Durham Chamber of Commerce. "We are excited to be expanding the ecosystem necessary to support our growing and diverse industry clusters and are proud to have partnered with the state to bring yet another addition to the city and county's tax base, as well as a spectrum of career opportunities so valued in our community," he said.
Doug Edgeton, President and CEO of the North Carolina BiotechnologyCenter, then discussed partnering with Tergus to provide opportunities for community college graduates in the state. "Tergus has been very involved with us in creating opportunities to get students through the community college system, particularly at Durham Tech, and we know that as you grow to two hundred employees that you will be picking up workforce from around this area," said Edgeton.
The speaking portion of the ceremony was capped by words from Dr. Nalamothu, who expressed his gratitude to local and state government officials, the business community, past and present customers, and the employees of Tergus Pharma. "So the team is here. We have industry knowledge, we have experience in R&D product development. Now we are venturing into commercial manufacturing services. But this commitment, the passion, the proficiency, demonstrated by our team every day is what drives us and what this business means to our client needs," he said.
After his speech Dr. Nalamothu, his wife and Tergus board member Devi Nalamothu, Gov. Cooper, and Tergus board member Eddie Hjerpe officially cut the ribbon, after which Gov. Cooper and Attorney General Stein were invited inside to see the new corporate office space.
In addition to corporate and administrative offices, the new Tergus facility houses five state-of-the-art research and development laboratories, in addition to six commercial GMP manufacturing suites, six filling and packaging suites, along with two dedicated High-Potent and Hormonal suites.
Tergus Pharma's long-term vision in Research Triangle Park (Durham, NC) is to become the largest topical drug product contract development and manufacturing company in the United States. To realize this vision, Tergus is working closely with the state of North Carolina, the Durham Chamber of Commerce, and the NC Biotechnology Center. Tergus is currently hiring for several positions including process engineering, project management, research & development scientist, and several support functions.
About Tergus Pharma
Tergus Pharma is an end-to-end service provider for topical pharmaceutical products supporting early phase research and formulation, drug development, testing, and both clinical and commercial manufacturing at our new 100,000 sq. ft. state-of-the-art facility in Durham, North Carolina. Tergus is the industry leader for topical/skin semi-solids and liquids as well as other non-skin semi-solids/liquids for vaginal, rectal and otic/ophthalmic routes of administration where we recognize the value of our stellar industry reputation for delivering quality results to clients. With industry-recognized leadership and expertise in method development, such as IVRT/IVPT for topical pharmaceuticals, Tergus also provides clients with peace of mind and helps them to de-risk their product development. Exclusively focused on topical development and manufacturing, Tergus brings the scientific expertise that helps our clients achieve the right balance of scientific knowhow, speed of results, and quality in product service, warranting our company motto, "Think Topicals, Think Tergus." For more information, please visit https://www.TergusPharma.com/