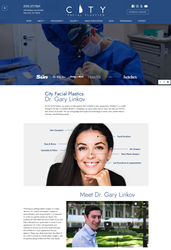 Being selected as a medical examiner to represent the lip lift procedure on the RealSelf website is an honor. I am thrilled to lend my extensive knowledge in this specific area, as I am passionate about educating and improving patients' lives. Dr. Gary Linkov
NEW YORK (PRWEB) August 23, 2019
Dr. Linkov is a leading board-certified facial plastic surgeon at City Facial Plastics in New York City. He is a renowned and highly-skilled surgeon whose extensive knowledge makes him an impressive resource for the website. RealSelf.com is an online healthcare information destination where prospective patients can learn about cosmetic procedures, share their experiences and connect with top providers.
In the informational lip lift section of the RealSelf website, Dr. Linkov helps educate the public on many details regarding the procedure. A lip lift is a customizable procedure that has become quite popular, as it creates a more attractive upper lip shape and improves facial balance. The outcome often looks more natural than injectable lip fillers. Dr. Linkov provides his expertise and helps explain exactly what a lip lift entails, the pros and cons, expected results, typical costs and alternative options.
"Being selected as a medical examiner to represent the lip lift procedure on the RealSelf website is an honor. I am thrilled to lend my extensive knowledge in this specific area, as I am passionate about educating and improving patients' lives," said Dr. Gary Linkov
More about Dr. Linkov:
Dr. Gary Linkov is a graduate of Cornell University and received his medical degree from Columbia University. He completed his residency in head & neck surgery at the Temple Head and Neck Institute. After residency, Dr. Linkov completed his American Academy of Facial Plastic and Reconstructive Surgery fellowship at the highly regarded Washington University in St. Louis.
Dr. Gary Linkov and his team at City Facial Plastics in New York City can assist you in finding the best version of yourself. They use cutting-edge techniques and technology to ensure every patient obtains stunning, natural-looking results. To learn more about Dr. Linkov and City Facial Plastics, please visit http://www.cityfacialplastics.com. The clinic can be reached at info@cityfp.com or by calling (929) 377-7869.