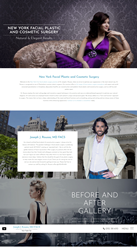 When any procedure involving plastic surgery of the ear is carried out, the goal should be to balance art and science to create beautiful results. I feel privileged to speak and share my experiences. I hope the attendees will benefit and use what they learned on this topic, says Dr. Joseph Rousso
NEW YORK (PRWEB) November 06, 2019
Dr. Joseph Rousso recently spoke at Albert Einstein College of Medicine's Department of Otolaryngology in the Bronx, New York, regarding plastic surgery of the ears. Dr. Rousso's expertise and extensive training make him one of the top ear plastic surgeons in the world. As chief of the division of facial plastic and reconstructive surgery at the New York Eye and Ear Infirmary of Mount Sinai and the director of microtia services, he is a leader in the field, working on many complicated plastic surgery cases involving the ear. As a renowned expert, he spoke on all facets of plastic surgery of the ears to provide a deeper understanding for medical students and other attendees. During his lecture, Dr. Rousso discussed multiple topics, including protruded ears, otoplasty, cosmetic ear surgeries and ear reconstruction for microtia. He also covered neonatal/newborn ear molding, such as the Earwell system to prevent the need for future cosmetic surgery.
Dr. Rousso's presentation was well-received and offered practical knowledge pertaining to ear plastic surgery and the proper treatment of patients. The Grand Rounds at Albert Einstein's School of Medicine offers a more in-depth education in many areas from various doctors, educators and healthcare specialists in order to improve the knowledge, competence and performance of medical students and other healthcare professionals.
"When any procedure involving plastic surgery of the ear is carried out, the surgeon's goal should be to balance art and science to create beautiful results that do not look operated on. I feel privileged to be asked to speak and share my experiences regarding ear plastic surgery. I hope the attendees will benefit and use what they learned from my presentation on this topic," says Dr. Joseph Rousso
Dr. Joseph Rousso practices medicine in Manhattan at the New York Eye and Ear Infirmary of Mount Sinai and Mount Sinai Doctors East 85th Street. Dr. Rousso offers several advanced reconstructive and cosmetic procedures as well as the latest and most innovative treatments in facial rejuvenation.
More About Dr. Rousso
Dr. Joseph J Rousso is double board-certified by the American Board of Facial Plastic and Reconstructive Surgery and the American Board of Otolaryngology-Head & Neck Surgery. He began his medical education at Florida State University. He completed his surgical internship at Beth Israel Medical Center and residency at the New York Eye & Ear Infirmary in Otolaryngology-Head & Neck Surgery. He was then selected to be a fellow of the American Academy of Facial Plastic & Reconstructive Surgery (AAFPRS) program. Dr. Rousso furthered his facial plastic surgery training at the Albert Einstein College of Medicine and the New York Center for Facial Plastic & Laser Surgery. For more information about Dr. Joseph Rousso, please visit http://www.facialplasticsurgery-nyc.com or call (212) 381-6110.