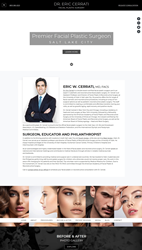 It is such an honor to be included on The Park Record's list as Park City's Best Plastic Surgeon, as I am passionate about providing excellent care and exceptional results for my patients, says Dr. Eric Cerrati
SALT LAKE CITY (PRWEB) November 24, 2020
The Park City, Utah community recently voted for Dr. Eric Cerrati as one of the city's Best Plastic Surgeons in the local magazine's 2020 People's Choice edition. Dr. Eric Cerrati is a double board-certified facial plastic surgeon and a well-respected authority in the field of cosmetic plastic and reconstructive surgery. As a plastic surgeon who focuses on the face and neck, Dr. Cerrati uses the most advanced and cutting-edge techniques to provide long-lasting, elegant results. His state-of-the-art practice offers a full range of facial cosmetic and reconstructive procedures, including an array of non-surgical options as well as pediatric reconstructive plastic surgery. Whether patients need options to grow old gracefully, deal with the side effects of a medical condition or help after a traumatic injury, Dr. Cerrati can help them look and feel their best by designing effective treatment plans to achieve aesthetic goals.
Link to publication: https://edition.pagesuite-professional.co.uk/html5/reader/production/default.aspx?pubname=ParkRecord%20SpecialSections&edid=52cad974-7843-41f3-ba58-eb3499fbb02e
"It is such an honor to be included on The Park Record's list as Park City's Best Plastic Surgeon, as I am passionate about providing excellent care and exceptional results for my patients," says Dr. Eric Cerrati
More about Dr. Eric Cerrati:
Dr. Eric Cerrati received his medical degree from the Medical University of South Carolina in Charleston, SC. His post-doctoral training included a 5-year residency in otolaryngology-head and neck surgery at New York University. Dr. Cerrati spent a significant amount of time working with Dr. Milton Waner, the founder of the Vascular Birthmark Institute of New York. This provided him with unique training in pediatric facial plastic surgery, addressing the rarest congenital anomalies. Following residency, he also completed a prestigious fellowship at the Facial Plastic Surgery Center in Chicago. In addition to his thriving practice, Dr. Cerrati is an assistant professor and director of Facial Plastic and Reconstructive Surgery at the University of Utah. As a highly credentialed leader in his field, Dr. Cerrati speaks at national and international conferences and has contributed to many medical journals and textbooks. He is also committed to his philanthropic efforts and provides his talent on medical missions to underprivileged countries. Dr. Cerrati is proud to be the official facial plastic surgeon to the Utah Jazz, U.S. Ski and Snowboard Association, U.S. Speedskating, U.S. Bobsled and Skeleton Federation and the International Olympic and Paralympic Medical Committees.
If you would like to get more information about Dr. Eric Cerrati or his plastic surgery practice locations in Salt Lake City and South Jordan, Utah, please visit http://www.drericcerrati.com or call (801) 585-3223.