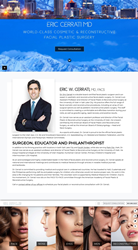 "It is such an honor to once again be recognized by "The Park Record" as Park City's Best Plastic Surgeon. My goal is to always help my patients look and feel their best by designing effective treatment plans to achieve aesthetic goals," says Dr. Eric Cerrati
SALT LAKE CITY (PRWEB) November 03, 2021
For two years in a row, the Park City, Utah, community has voted for Dr. Eric Cerrati as one of the city's Best Plastic Surgeons in the local magazine's 2021 People's Choice edition. Dr. Eric Cerrati is a double board-certified facial plastic surgeon and an expert in aesthetic and reconstructive facial plastic surgery. In addition to running his thriving practice, Dr. Cerrati is also an assistant professor and director at the University of Utah's Department of Facial Plastic & Reconstructive Surgery. His plastic surgery clinics are state-of-the-art, offering a full range of cutting-edge facial cosmetic and reconstructive procedures, including an array of non-surgical options as well as pediatric reconstructive plastic surgery. Dr. Cerrati's expertise includes facelift, rhinoplasty, endoscopic browlift, blepharoplasty, facial fillers, Mohs reconstruction, scar revision and pediatric facial plastic surgery for vascular and congenital anomalies. Dr. Cerrati and his team of caring medical professionals are second to none in their field and are well-deserving of this impressive accolade.
Link to publication: https://edition.pagesuite-professional.co.uk/html5/reader/production/default.aspx?pubname=ParkRecord%20SpecialSections&edid=4ede4e55-7443-4797-8619-bd70a63096a0
"It is such an honor to once again be recognized by "The Park Record" as Park City's Best Plastic Surgeon. My goal is to always help my patients look and feel their best by designing effective treatment plans to achieve aesthetic goals," says Dr. Eric Cerrati
More about Dr. Eric Cerrati:
Dr. Eric Cerrati received his medical degree from the Medical University of South Carolina in Charleston, SC. His post-doctoral training included a 5-year residency in otolaryngology-head and neck surgery at NYU. Dr. Cerrati spent a significant amount of time working with Dr. Milton Waner, the founder of the Vascular Birthmark Institute of New York. This provided him with unique training in pediatric facial plastic surgery, addressing the rarest congenital anomalies. Following his residency, he also completed a prestigious fellowship at the Facial Plastic Surgery Center in Chicago. As a highly credentialed leader in his field, Dr. Cerrati speaks at medical conferences and is a contributor to many medical journals and textbooks. In addition to treating his patients, Dr. Cerrati also served as the official facial plastic surgeon to the Utah Jazz, U.S. Ski and Snowboard Association, U.S. Speedskating, U.S. Bobsled and Skeleton Federation and the International Olympic and Paralympic Medical Committees.
If you would like to get more information about Dr. Eric Cerrati or his plastic surgery practice locations in Salt Lake City and South Jordan, Utah, please visit http://www.drericcerrati.com or call (801) 585-3223.