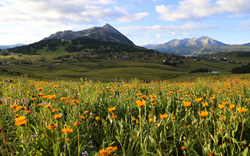 Denver, Colorado (PRWEB) November 20, 2014
2014 has proven to be an extremely active year for Rocky Mountain ski resorts. Since early this spring, four well-known ski areas – Park City, Durango Mountain Resort, Solitude, and Snowbird - have changed ownership, creating a buzz of activity in resort towns throughout the West.
The owners of Crested Butte Mountain Resort, a Colorado ski area, are seeking to benefit from this surge in interest by offering approximately 20% of the private land in the town of Mt. Crested Butte for sale. The 257-acre property, marketed as the Promontory Ranch, is listed by Mirr Ranch Group of Denver, CO for $12.6 million.
According to listing broker Ed Roberson, the property's location and zoning appeal to a wide range of buyers, including developers, conservationists, and end users. "It's rare to find an opportunity to purchase 20% of the private land in any town, much less land that adjoins one of North America's most admired ski resorts," Roberson added.
Roberson further explains that with zoning that allows for over 1,800 residential units, 200,000 square feet of commercial development, and the ability to connect to the main ski mountain via a high-speed lift, the property is a logical location for Crested Butte's future central ski village.
"Most comparable properties in other ski areas were acquired and developed decades ago. This is one of the last opportunities to purchase a property of this size with such close proximity to a major ski resort," explained Michael Kraatz, VP of Real Estate Development at Crested Butte Mountain Resort.
The property is also coveted by land conservation groups, due in part to its wetlands, wildlife habitat, and location at the base of 11,145-foot Snodgrass Mountain. Because it shares boundaries with both Gunnison National Forest and permanently conserved land, the property is a well-known departure point for backcountry skiing, hiking, and mountain biking.
Ken Mirr, owner of Mirr Ranch Group and former public lands attorney, praises the property's uniqueness: "I spent much of my career facilitating public land exchanges on behalf of ski areas, and I've rarely encountered a property that is so attractive to such a diverse group of buyers. We're thrilled to be marketing it."
As ski season approaches, Roberson expects a spike in interest in the property. "The flurry of recent ski resort sales indicates renewed interest in Rocky Mountain resort markets. Promontory Ranch is one of the last of its kind – a sizable, undeveloped tract with zoning for 1800 units. There's a huge upside for future owners. "
For media inquiries, to arrange for an interview, or to get an expert quote, please contact Mallory Boyce at (303) 623-4545 ext. 4. Photography available upon request.
About Mirr Ranch Group:
Mirr Ranch Group offers marketing and buyer acquisition services for fine sporting properties and legacy ranches for sale throughout the American West. Brokers for the company are known for their expertise in sporting, public lands and conservation in addition to their unsurpassed knowledge of ranch transactions.
For more information, contact:
Mirr Ranch Group
915 South Pearl Street
Denver, CO 80209
(303) 623-4545
http://www.MirrRanchGroup.com