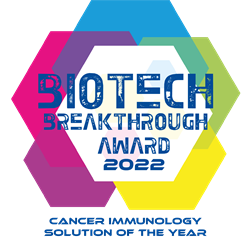 We are grateful to BioTech Breakthrough for this award, which recognizes the importance of immunogenic small molecules in cancer care - Robert Fallon, Promontory President and Chief Executive Officer
NEW YORK (PRWEB) November 03, 2022
Promontory Therapeutics Inc., a clinical stage biotech company advancing small molecule immunotherapies in oncology, today announced it has received the "Cancer Immunology Solution of the Year" award in the second annual BioTech Breakthrough Awards program conducted by BioTech Breakthrough, a leading independent market intelligence organization that evaluates and recognizes standout life sciences and biotechnology companies, products and services around the globe.
Promontory Therapeutics is currently in Phase 2 clinical trials focused on the development of small molecule immunotherapy in cancer. Through its lead agent PT-112, the first ever conjugate of pyrophosphate in oncology, Promontory has realized advantages over the immune-oncology class of checkpoint inhibitors (CPIs) — including tolerability, pleiotropic mechanism of action, promotion of immunogenic cell death (ICD) and osteotropism (affinity to bone).
"We are grateful to BioTech Breakthrough for this award, which recognizes the importance of immunogenic small molecules in cancer care," said Promontory President and Chief Executive Officer Robert Fallon. "Many patients do not respond to I-O checkpoint inhibitors, especially in solid tumors like late stage prostate cancer. Our drug candidate helps ignite the adaptive immune system and promotes clonal expansion of T-cells that lead to more durable therapeutic response."
"ICD is a process that elicits an anti-cancer immune response related to the way in which a cancer cell dies. The induction of ICD is akin to viral mimicry and can be a critical factor in longer term response to therapy, whether alone or in combination with other immunotherapy agents," said Bryan Vaughn, Managing Director of BioTech Breakthrough Awards. "Based upon preclinical models, PT-112 represents the potential best-in-class ICD inducing agent. PT-112's immunogenic cell death induction makes it a promising future treatment option in several possible cancer indications including thymoma and lung cancers. Congratulations on this true breakthrough and being our choice for 'Cancer Immunology Solution of the Year.'"
In three completed Phase 1 trials, PT-112 demonstrated single-agent anti-cancer activity and safety. The company is currently enrolling patients in multiple Phase 2 trials, including a late-stage metastatic castration-resistant prostate cancer study, a disease with limited treatment options that has yet to see widespread approval of immunotherapies. In 2022, PT-112's ICD effects in human and animal tumors were further validated in peer-reviewed articles in both the Lancet's eClinical Medicine and MDPI's Cancers.
PT-112 also exhibits a unique property, osteotropism, making it a strong candidate for treating cancers that originate in or metastasize to the bone, such as prostate cancer and hematological malignancies. A Phase 1 study in multiple myeloma was recently completed, an indication in which PT-112 holds orphan drug status.
In collaboration with the National Cancer Institute, PT-112 monotherapy is being studied in thymoma and thymic carcinoma, a rare disease with no approved FDA therapy for which PT-112 has also received orphan drug designation. Promontory also has an ongoing collaboration with Pfizer and Merck KGaA studying PT-112 in combination with PD-L1 checkpoint inhibitor, avelumab, in non-small cell lung cancer (NSCLC).
The mission of the annual BioTech Breakthrough Awards program is to conduct the industry's most comprehensive analysis and evaluation of the top companies, solutions and products in the life sciences and biotechnology industry today. This year's program attracted more than 1,350 nominations from over 12 different countries throughout the world.
####
About Promontory Therapeutics
Promontory Therapeutics Inc. is a privately held, clinical stage pharmaceutical company focused on small molecule immunotherapy. The company's lead candidate, PT-112, is the first small molecule conjugate of pyrophosphate in oncology, and possesses a unique pleiotropic mechanism of action that promotes immunogenic cell death (ICD), through the release of damage associated molecular patterns (DAMPs) that bind to pattern recognition receptors on dendritic cells and promote the adaptive immune response in the tumor microenvironment. Clinical data generated across three Phase 1 studies have demonstrated single-agent anti-cancer activity and an attractive tolerability profile, and three Phase 2 studies of PT-112 are underway. The company's research and development work has been conducted in the United States, Europe and Asia, along with a sub-license agreement for the development, commercialization and use of PT-112 in Greater China. The company also sponsors the ongoing clinical study of PT-112 in combination with the PD-L1 inhibitor avelumab under a collaboration agreement with Pfizer and Merck KGaA, Darmstadt, Germany (operating as EMD Serono in the US and Canada), and has an active Phase 2 trial underway with the NCI utilizing PT-112 in thymic epithelial tumors where PT-112 has received Orphan Drug designation.
To learn more about Promontory Therapeutics, visit the company's website here.
About BioTech Breakthrough
Part of Tech Breakthrough, a leading market intelligence and recognition platform for global technology innovation and leadership, the BioTech Breakthrough Awards program is devoted to honoring excellence in life science and biotechnology solutions, services and companies. The BioTech Breakthrough Awards provide public recognition for the achievements of biotechnology companies and products in categories including BioPharma, Genomics, Therapeutics, Food Science and BioAgriculture, and more. For more information visit BioTechBreakthroughawards.com