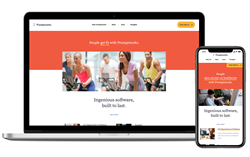 "Promptworks is Philadelphia's tech company that you might not know about, but probably should."
PHILADELPHIA (PRWEB) August 24, 2020
Promptworks announced today the launch of its new rebrand and website. The rebrand follows seven years of rapid growth – including a robust client roster with numerous Fortune 500 companies and a tenfold increase in staff – for the Philadelphia-based software design and development firm.
In 2013, Greg Sterndale, Mike Nicholaides, and Jason Garber founded Promptworks as a team of three Philadelphia-based software engineers. The firm has since grown into a multi-million dollar business. With a focus on product strategy, product design, and software engineering, Promptworks has created custom technology for premier clients, including Comcast, Twitter, Sony, URBN, IQVIA, and Honeygrow. It has been named one of Philadelphia's top software development companies by the Philadelphia Business Journal and Clutch.co, and was just added to the Inc. 5000 list of the fastest-growing privately-held companies in the U.S.
Promptworks worked with two Philly-based firms: Swell on its rebrand, which includes the tagline "Ingenious software, built to last," and with Armor on its new visual identity, logo, and website.
"Promptworks is Philadelphia's tech company that you might not know about, but probably should," said Greg Sterndale, CEO & Software Engineer at Promptworks. "We build difference-making, mission critical software to make lives easier and better. We've been quietly creating custom technology to solve our clients' biggest challenges for the last seven years, and now our brand and website showcase the accomplished group we are today."
Promptworks prides itself on solving complex business challenges with design-forward custom software – whether that means creating Honeygrow's in-store kiosk ordering/inventory system or delivering cloud computing services to Department of Defense employees around the world. The new website features a number of case studies that break down how the firm optimizes both end-user experience and backend functionality for clients.
"In 2018, poor quality software cost U.S. organizations $2.8 trillion," said Steve Cleff, Director of Product Design at Promptworks. "That's why we're here: Our Design approach focuses on understanding customer needs and defining difference-making features so we not only do what's in the best interest of our clients, but also create products that are built to last."
With offices in Philadelphia and New York City, Promptworks now employs 32 innovative and fun-loving team members – many of whom are leaders among their peers. The firm encourages its employees to dedicate 25% of their time to professional growth projects, such as creating open-source tools and leading local meetup groups – including Software as a Craft, Philly Tech Sistas, and PhillyPUG.
Volunteerism and philanthropy also set Promptworks apart from other software companies. The firm donates coding and consulting hours to local organizations, including Code for Philly and Hopeworks in Camden, where Promptworks recently coached young adults on careers in tech. When the COVID-19 pandemic hit Philadelphia, Promptworks staff members created YourNeighborGood.com, a free mutual aid platform for neighbors to help each other with errands and tasks, such as groceries and prescription pickups.
The firm's recent Ingenious Ideas event facilitated dialogue among 80 Philadelphians involved with tech, food, education, arts, healthcare companies, and nonprofits. The goal of the event: Develop concrete action steps and commitments to make the city a better, more equitable place to live and work. Promptworks itself made five commitments, including donating nearly $10,000 to Philadelphia charitable organizations, hosting a virtual meetup series focused on community challenges, and aligning local leaders around shared Diversity, Equity, and Inclusion objectives.
About Promptworks
Promptworks raises the bar by building ingenious software that lasts. With deep technical expertise, human-centric design thinking, and transparent processes, we confidently engineer masterful products for companies such as Comcast, Twitter, Sony, URBN, IQVIA and Honeygrow. And we're based in Philadelphia and NYC, so you can partner with someone close to home.
###