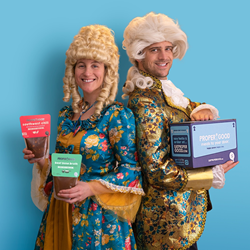 Proper Good is the only premium shelf-stable meal company for at home, work or on-the-go
AUSTIN, Texas (PRWEB) October 15, 2021
Today premium clean food brand, Proper Good, appeared on ABC's Shark Tank and received an offer for a deal from Mark Cuban.
Proper Good offers 90-second meal solutions with options accommodating keto, gluten / dairy-free and plant-based diets. All meals are made with clean and functional ingredients, shelf-stable to take on the go and delivered direct with recyclable packaging.
The brand has seen consistent traction after launching in April of 2020, surpassing the $1,000,000 sales mark in its first year with more than 150,000 meals sold and thousands of five-star reviews. Proper Good currently sells 17 meals with its newest including Proper Good Ready Oatmeals and Cream of Chicken Soup.
"Going into Shark Tank, my sister, Co-Founder and CMO, Jennifer Jane, and I wanted to emphasize how Proper Good is the only premium shelf-stable meal company for at home, work or on-the-go," says Proper Good CEO & Co-Founder, Christopher Jane. "Additionally many of our consumers include essential workers like medical professionals, truck drivers and others who work nights, so there's room in the market to serve these individuals with easier, more nutritious meal options."
Proper Good's packaging allows workers to store their unopened meals at room temperature (no need for refrigeration or freezing) which means they can keep the pouches at a nurse's station, break room or right with them on the road and eat quickly versus stopping for fast food or junk food.
"We have a very playful brand identity, and we wanted the Sharks to understand not only can our consumers enjoy clean-ingredient, 90-second meals with us, they can also have fun and learn along the way," says Proper Good CMO & Co-Founder, Jennifer Jane. "We see customer experience as of the utmost importance, so we ensure everything from the packaging copy to the social media founder photos follow a consistent tone and style, and consumers know exactly what to expect from Proper Good at all points of their journey with us. They can expect things like a custom, cute spoon on delivery, down-to-earth and humorous tone of voice on the packaging and a little nudge to help the planet by recycling when they're done."
"We're extremely honored to be featured on Shark Tank and to receive a deal from the Shark we hoped to engage. This will tremendously help us expand our product portfolio and distribution channels to offer new and different ready-made meals for breakfast, lunch and dinner," says Christopher Jane.
Launching a new product every six weeks or so, Proper Good has built a foundation for very nimble and efficient manufacturing with a customized data platform showing real-time product market fit. This allows for continuous recipe micro-iteration based on real-time feedback from 20,000+ consumers.
To learn more about Proper Good, please visit eatpropergood.com. To download images and video for media use around this airing, please visit http://www.dgepress.com.
About Proper Good
Launched by Co-Founders Christopher and Jennifer Jane in 2020 and headquartered in Austin, Texas, Proper Good offers 90-second meal solutions accommodating keto, gluten / dairy-free and plant-based diets. All are made with clean and functional ingredients and are shelf-stable to take on-the-go. Individual meals start at $5.69 with a subscription, and users can build their own pack to earn milestones such as a free gift, free shipping and volume discounts. Additionally the brand has committed to becoming Climate Neutral Certified in 2022, and all packaging is recyclable. To learn more about Proper Good visit eatpropergood.com or engage with the brand on Facebook, Twitter, Pinterest or Instagram. Note Proper Good donates one meal to a food charity for every social media post with the #eatpropergood and tag @eatpropergood.