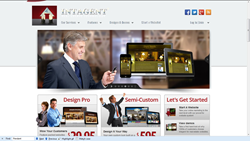 Intagent Email Marketing enables you to stay in contact with the leads with a few clicks of a button.
Ann Arbor, Michigan (PRWEB) May 18, 2014
Intagent has now come up with an improved Drip Email Marketing system on their real estate websites to make it even more trustworthy and efficient for their clients. The system provides a robust email marketing platform that supports them in creating email campaigns to keep in consistent touch with their customers and gain traction with them.
"Intagent Email Marketing enables you to stay in contact with the leads with a few clicks of a button. An email can be sent with the latest updates such as new homes for sale, a change in real estate policy of the State or useful tips regarding the purchase of a property. Providing such useful information to the active buyers is going to help you in the long run," commented a senior executive with the company.
Drip Email Marketing is a proven system for branding purpose that generates high value sales overtime. The strategy involves dispatching a series of customized mails over a period of time to sales leads. The marketer intends to consistently do something over a pre-determined period to create a positive impact about the business, gradually gaining their trust. The system has been proven to be highly effective in high-value products with a long sale cycle.
Automated drip marketing campaigns by the realtors can persuade prospective customers to buy a product or service overtime. As the executive said, "This email marketing platform enables you stay in contact with all of your leads effortlessly. It helps you create and execute email campaigns. The process brings down our customer's work time significantly as they can create a set of emails and then schedule the deliver time to a subset of clients."
Drip Email Marketing focuses on persuading buyers to buy a product psychologically rather than trying to sell in one go. The approach is realization of the fact that people do not purchase real estate always that instant. Rather, they collect information, analyze it and then reach upon a decision. Find more information on websites for realtors Intagent designs along with the drip email marketing system.
About the Company
Intagent, specializing in property web design, develops websites customized to the unique requirements of the realtors. Leveraging expertise in the field, the company ensures the client's websites are a step ahead of the competitors. Anyone looking for property website design must visit here. Intagent real estate websites are packed with features that can enable realtors to take their business to new heights. Visit here for best realtor websites http://www.intagent.com/.
Contact Information
Intagent
3737 Bradford Sq. Dr.
Ann Arbor, Michigan 48103
Phone: (800) 209-0740
Website: http://www.intagent.com/