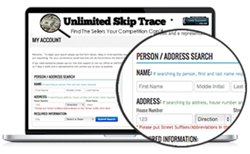 I can run a search, get the information, and contact the home owner all without moving from my desk.
Seattle, WA (PRWEB) September 23, 2014
As the number of vacant properties continues to rise around the country, more and more real estate investors are looking into investing in vacant homes. The biggest challenge investors face with vacant properties is being able to find and contact the homeowner. This is why UnlimitedSkipTrace.com is excited to announce the release of their new property owner search software tool.
Vacant home owner information can typically be found by searching through tax rolls and public records. However, taking this course of action to locate contact information for home owners is very time consuming and can be quite resource extensive. Now with UnlimitedSkipTrace.com it only takes a matter of minutes to get the information investors need to contact these home owners.
UnlimitedSkipTrace.com is a simple to use and cost effective skip tracing tool. Users enter basic information about a vacant property and this software searches through multiple databases to return contact information about previous property owners.
Some of the information returned in one of these skip traces is email addresses, current addresses, and phone numbers. In some cases contact information for relatives can be returned as well.
Having instant access to this information will give real estate investors the upper hand on competition. What normally would take hours upon hours only takes minutes. This means that UnlimitedSkipTrace.com users can find contact information and reach out to vacant home owners in less time that it would normally take to simply find details on the home owner using traditional method.
Mark, a new UnlimitedSkipTrace.com user, had this to say about how this software has changed his business, "I used to spend hours finding the information I needed on these vacant properties. Now it takes me a few minutes to run a search on multiple properties. The best part about UnlimitedSkipTrace.com is that the search results are returned instantly! I can run a search, get the information, and contact the home owner all without moving from my desk."
Having access to UnlimitedSkipTrace.com's new property owner search software tool will give investors the advantage that is needed in such a competitive market.
For more information on UnlimitedSkipTrace.com and the new property owner search tool, visit http://www.UnlimitedSkipTrace.com today!