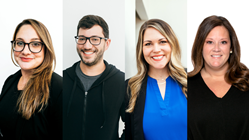 NASHVILLE, Tenn. (PRWEB) November 29, 2022
Fortress, a real estate technology firm that creates property management software solutions for apartment owners and operators, announces key hires in sales, marketing, product, and client service. Tiffany Bergstrom joins as Head of Sales, Marc Rutzen as Chief Marketing Officer, Ryan Strait as Vice President of Product, and Erin Cook as Director of Onboarding.
Tiffany Bergstrom brings years of strong sales experience to her role as Head of Sales of Fortress. Prior to joining the company, she worked as Director of Sales for WalkMe, a digital adoption platform, assisting businesses with their digital adoption experience. She is based in New York City and works remotely.
At Fortress, Bergstrom will combine her invaluable drive and knowledge to further the company's position as a top-tier software sales organization within the proptech industry by implementing a comprehensive and forward-thinking sales strategy.
Marc Rutzen has more than a decade of experience ranging from real estate development and brokerage to founding Enodo — a predictive analytics startup that projected the impact of value-add renovations on rent, expenses, and investment performance in multifamily assets. When Walker & Dunlop acquired Enodo in 2019, Rutzen joined the company and served as Senior Vice President of Information Technology before moving up to the role of Chief Product Officer. He is based in Chicago and works remotely.
As CMO at Fortress, Rutzen will oversee the company's overall advertising and sales strategy, including the structural development of the marketing department. He will also approve marketing campaign ideas and coordinate marketing efforts to align with the company's financial and branding goals.
As VP of Product, Ryan Strait brings years of experience in product management, marketing, consulting, and sales. Prior to joining the Fortress team, Strait served as VP of Product Strategy for a company in the government technology space, leading and executing strategy based on sound analysis and data-driven decision-making. She is based in Manhattan, Kansas and works remotely.
In her role at Fortress, Strait plans to delve deeper by further aligning the vision and direction of the product. She will also lead the product management and design teams in creating a product roadmap that fits the needs of both clients and company initiatives.
In her role as Director of Onboarding, Erin Cook is responsible for the development and oversight of engagement management, implementation, and digital adoption. She works to develop best practices and improve efficiencies to ensure the success of Fortress clients.
Cook previously served as a top-performing, multi-site business manager for a large multifamily property management firm. There, she piloted and helped shape the implementation of all new technology for the company. She is based in Collierville, Tennessee and works remotely.
With 15 years of experience in operations and asset management under her belt, Cook says she is excited to contribute to the creative, collective vision of Fortress.
Since a strategic investment from Walker & Dunlop in November of last year, Fortress' team has grown to nearly 50.
Fortress Founder and CEO Kerri Davis says she is looking forward to seeing firsthand the positive impact the recent hires will have on the company's continued upward trajectory.
"We are thrilled to welcome such talented innovators and leaders to our growing team," said Davis. "They will join the ranks of ambitious people who are passionate about the Fortress product and user experience. With these hires, we continue to build momentum and propel the growth of Fortress into 2023 and beyond."
Continued Innovation Ahead
Fortress' mission is to propel the real estate industry forward by creating modern solutions and collaborating with customers. To do so, the property management software is always looking for talented individuals to join the team.
A fully-remote company with an office in Nashville, Fortress team members value:

Knowing when to grind, and when to breathe
Observing, then contributing
Making new mistakes
Challenging directly, caring personally
Holding themselves and others accountable
The proptech company is currently hiring for multiple positions across sales, marketing, and engineering. Stay up-to-date on job postings by following the company on LinkedIn: https://www.linkedin.com/company/fortressproptech
About Fortress
Fortress is a property management software product created on the basis that property management software should be easy, transparent, and informative. Existing property management platforms are outdated, lack proper support, and require a computer science degree and a deep bank account to fully understand. Fortress recovers lost time and money through in-system training, support from the perspective of a property management company and real-time data for immediate knowledge and action. Fortress is based in Nashville, Tennessee. To learn more, visit Fortresstech.io.