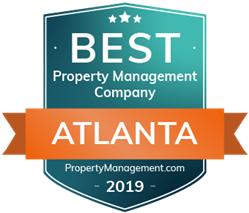 BELLEVUE, Wash. (PRWEB) August 06, 2019
PropertyManagement.com, a leading resource to help property owners identify reliable, trusted, and experienced property management services in the United States, has announced the 2019 Best Property Management Companies in Atlanta, GA. The guide recognizes 31 top property management firms based on costs, customer rating, reliability, and experience.
PropertyManagement.com used a selection process that evaluated each company across 30 different metrics. After careful assessment of 327 property management companies in the Atlanta area, only 31 firms were selected for the final list. The research identified companies that scored the highest in outstanding customer reviews, credibility, high-level professionalism and more.
"Our goal is to help property owners make the most of their investments," says Joyce Collins, Recognition Manager. "A reputable property management company can help owners save time and money by advertising rentals, collecting rent, handling maintenance issues and responding to tenant complaints."
In addition to top picks for property management companies, the website also offers tips on rental marketing, tenant screening, liabilities, and a worksheet to keep track of income and expenses. For a detailed listing of the Best Property Management companies in Atlanta, GA, please visit: https://www.propertymanagement.com/companies-in-atlanta-ga/
2019 Best Property Management Companies in Atlanta, Georgia (in alphabetical order)
3 Options Realty
678-397-1282
555 Sun Valley Dr. Ste. B4 Roswell, GA 30076
9 Mile Trolley Realty
404-681-9304
1736 Monroe Dr. NE Atlanta, GA 30324
All County Property Management
770-431-4633
2675 Paces Ferry Rd. SE, Ste. 150 Atlanta, GA 30339
Ashman Associates Inc.
770-552-1120
1294 Alpharetta St. B-B Roswell GA 30075
Atlanta Property Management Group
404-480-4189
88 North Avondale Rd. #346 Avondale Estates, GA 30002
Atlantic Property Management
678-710-6110
105 Nobel Ct. Alpharetta, GA 30005
Better Homes GA Properties
678-507-0100
770 Old Roswell Rd. Ste. I-300 Roswell, GA 30076
Bullock Property Management Group
770-491-9349
4928 Lavista Rd. Tucker, GA 30084
Citiside Properties
770-733-1756
1954 Airport Rd. Ste. 202 Atlanta, GA 30341
Clients 1st Property Management Specialists
678-569-4005
309 Creekstone Ridge Woodstock, GA 30188
Compass Property Management Group
404-445-7770
1275 Shiloh Rd. Ste. 2950 Kennesaw, GA 30144
Excalibur Homes
678-825-0500
2855 Marconi Dr., Ste. 310 Alpharetta, GA 30005
Four Keys Property Management Services
470-296-0326
100 Hartsfield Centre Pkwy., Ste. 500 Atlanta, GA 30354
GA/ATL Property Management
770-557-1744
6251 Smithpointe Dr. Norcross, GA 30092
GTL Property Management
678-648-1244
120 Village Circle Senoia, GA 30276
Heritage Property
770-451-8171
500 Sugar Mill Rd. #200B Atlanta, GA 30350
Key Locations Property Management, LLC
877-744-3455
1035 Lake Windward Overlook Alpharetta, GA 30005
Meridian Management Group
404-244-6400
1303 Hightower Trail Ste. 101 Atlanta, GA 30350
One Big House
770-667-0022
11795 Northfall Lane, Ste. #603 Alpharetta, GA 30009
One Source Property Management and Realty
678-705-7877
2400 Herodian Way, Ste. 132 Smyrna, GA 30080
Platinum Property Management
678-710-8056
6120 Windward Pkwy. Ste., 165 Alpharetta, GA 30005
PMI Georgia
678-841-8101
100 Glendalough Ct., Ste. D2 Tyrone, GA 30290
Property Frameworks
770-998-9300
620 Holcomb Bridge Rd. Ste. 100 Roswell, GA 30076
Property Services of Atlanta Inc.
770-426-1150
2619 Sandy Plains Rd. Marietta, GA 30066
Skyline Properties Group, Inc.
678-978-1858
103 Springfield Dr, Ste. 101 Woodstock, GA 30188
Sovereign Realty & Management
404-974-4694
409 John Wesley Dobbs Ave NE, Suite C Atlanta, GA 30312
Specialized Property Management
404-596-8454
1201 Peachtree St., 400 Colony Square Ste. 200 Atlanta, GA 30361
Suncoast Property Management
470-440-6540
3485 North Desert Dr. East Point, GA 30344
Vineyard Property Management
404-788-3657
1290 Kennestone Circle, Suite D-203 Marietta, GA 30066
Wilcher Properties Group
770-587-9300
3115 Roswell Rd #203 Marietta, GA 30062
WRI Property Management
866-500-7064
3630 Peachtree Rd. NE, Ste. 1500 Atlanta, GA 30326
About PropertyManagement.com
PropertyManagement.com is an online resource for property owners with expert-advice and data-driven research about management of properties. The website provides a hand-picked list of the best property management companies across the nation. Users can also access free information and easy-to-use tools to help them make educated decisions about their investment property. For more information, visit PropertyManagement.com.