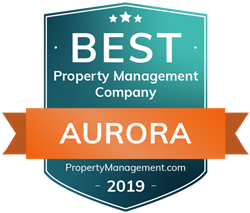 BELLEVUE, Wash. (PRWEB) October 07, 2019
PropertyManagement.com, a leading resource to help property owners identify reliable, trusted, and experienced property management services in the United States, has announced the 2019 Best Property Management Companies in Aurora, CO. The guide recognizes 19 top property management firms based on costs, customer rating, reliability, and experience.
PropertyManagement.com used a selection process that evaluated each company across 30 different metrics. After careful assessment of 285 property management companies in the Aurora area, only 19 firms were selected for the final list. The research identified companies that scored the highest in outstanding customer reviews, credibility, high-level professionalism and more.
"Our goal is to help property owners make the most of their investments," says Joyce Collins, Recognition Manager. "A reputable property management company can help owners save time and money by advertising rentals, collecting rent, handling maintenance issues and responding to tenant complaints."
In addition to top picks for property management companies, the website also offers tips on rental marketing, tenant screening, liabilities, and a worksheet to keep track of income and expenses. For a detailed listing of the Best Property Management companies in Aurora, CO, please visit: https://www.propertymanagement.com/companies-in-aurora-co/
2019 Best Property Management Companies in Aurora, Colorado (in alphabetical order)
Accord Property Management
720-230-7303
3033 South Parker Rd. #320 Aurora, CO 80014
Advanced Solutions Asset Management, LLC
303-834-2284
2103 South Wadsworth Blvd #207 Denver, CO 80227
Bergan & Company
303-694-5116
7340 East Caley Ave. #225 Centennial, CO 80111
Colorado First Realty & Management
303-840-4748
10336 South Dransfeldt Rd. #3 Parker, CO 80134
Custom Management Group
303-752-9644
2950 South Jamaica Ct. # 101 Aurora, CO 80014
Dr. Relocation
720-308-6835
6020 Greenwood Plaza Blvd Ste.100 Englewood, CO 80111
Full Use Property Management
720-282-9054
2910 South Havana St. Aurora, CO 80014
Galemba Property Management, Inc.
303-741-5959
9800 Pyramid Court, Ste. 400 Englewood, CO 80112
Invested Property Management
720-389-3200
7200 East Dry Creek Rd., #G-202 Centennial, CO 80112
J & J Property Management
303-369-3606
2600 South Parker Rd. Building 7 Ste. 375 Aurora, CO 80014
Kurtex Property Management, Inc.
303-739-0360
9655 East 25th Ave #101 Aurora, CO 80010
Mastino Management
303-928-7670
6205 South Main St. Ste. D-275 Aurora, CO 80016
McGuire Property Management
720-402-5477
7955 East Arapahoe Court #1250 Centennial, CO 80112
Metro Property Management, Inc.
303-309-6220
10800 East Bethany Dr. #235 Aurora, CO 80014
Montclair Management Company
303-366-5900
9745 East Hampden Ave. #407 Denver, CO 80231
Swan Enterprises & Consulting
303-923-3502
1250 South Buckley Rd. Ste. I-241 Aurora, CO 80017
The Colorado Property Management Group
303-671-6402
2620 South Parker Rd. Aurora, CO 80014
Western View Management
303-696-0404
3090 South Jamaica Ct # 300 Aurora, CO 80014
Westmont Property Management
303-996-2010
4255 South Buckley Rd. #309 Aurora, CO 80013
About PropertyManagement.com
PropertyManagement.com is an online resource for property owners with expert-advice and data-driven research about management of properties. The website provides a hand-picked list of the best property management companies across the nation. Users can also access free information and easy-to-use tools to help them make educated decisions about their investment property. For more information, visit propertymanagement.com.