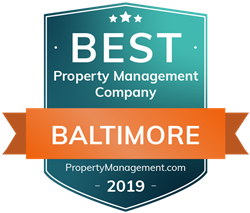 BELLEVUE, Wash. (PRWEB) November 18, 2019
PropertyManagement.com, a leading resource to help property owners identify reliable, trusted, and experienced property management services in the United States, has announced the 2019 Best Property Management Companies in Baltimore, MD. The guide recognizes 30 top property management firms based on costs, customer rating, reliability, and experience.
PropertyManagement.com used a selection process that evaluated each company across 30 different metrics. After careful assessment of 270 property management companies in the Baltimore, MD area, only 30 firms were selected for the final list. The research identified companies that scored the highest in outstanding customer reviews, credibility, high-level professionalism and more.
"Our goal is to help property owners make the most of their investments," says Joyce Collins, Recognition Manager. "A reputable property management company can help owners save time and money by advertising rentals, collecting rent, handling maintenance issues and responding to tenant complaints."
In addition to top picks for property management companies, the website also offers tips on rental marketing, tenant screening, liabilities, and a worksheet to keep track of income and expenses. For a detailed listing of the Best Property Management companies in Baltimore, MD please visit: https://www.propertymanagement.com/companies-in-baltimore-md/
2019 Best Property Management Companies in Baltimore, MD (in alphabetical order)
All County Chesapeake Property Management
443-963-3131
260 Gateway Dr. Ste. 13C Bel Air, MD 21014
Atlantic Realty Group
410-580-0010
P.O. Box 193 Cockeysville, MD 21030
Bay Property Management Group
443-708-4698
1114 Saint Paul St., Ste. 1A Baltimore, MD 21202
BG Property Management, Inc.
443-310-3916
9103 Woodmore Center, Ste. 150 Lanham, MD 20706
BMR Management, LLC
410-327-0764
1920 Gough St., Ste. C Baltimore, MD 21231
Boka Management Group
410-962-8050
504 Cathedral St. #100 Baltimore, MD 21201
C. Brown Properties
410-521-7050
859 1/2 North Howard St. Baltimore, MD 21201
Chesapeake Property Management, Inc.
443-588-5600
1414 Key Highway, 3rd Floor Baltimore, MD 21230
Cove Property Management
410-571-5555
P.O. Box 6724 Annapolis, MD 21401
GBC Management Group, LLC
443-563-2164
100 International Dr., 23rd Floor Baltimore, MD 21202
Home Advantage Property Management
410-626-7411
1052 Lido Dr. Annapolis MD, 21409
JBZ Management
410-929-5526
6609 Reisterstown Rd., Ste. 206B Baltimore, MD 21215
ManageBaltimore.com LLC
410-413-1279
100 International Dr., 23rd Floor Baltimore, MD 21202
Maryland Property Management LLC
410- 558-1000
111 Warren Rd., Ste. 4A Cockeysville, MD 21030
Maryland Property Rentals, LLC
240-206-6044
406 S Camp Meade Rd., Ste. 104 Linthicum, MD 21090
Paradigm Property Management Services, LLC
866-477-7767
324 Bryanstone Rd. Reisterstown, MD, 21136
Permira Property Management, LLC
410-696-3322
400 West Franklin St., Ste. 40 Baltimore, MD 21201
Pioneer Enterprises
410-354-1111
4408 Ritchie Hwy. Baltimore, MD 21225
Premier Property Management Investment LLC
410-522-1078
400 West Franklin St., Ste. 400 Baltimore, MD 21201
Prodigy Properties Inc.
443-986-8394
429 Eastern Blvd, Unit C Essex, MD 21221
Property Management of Baltimore, LLC
410-905-6678
PO Box 26273 Baltimore, MD 21210
PropertyWize
410-372-6512
10 Gerard Ave., Suite 203 Lutherville-Timonium, MD 21093
Reliable Property Management
443-869-3799
141 South Eaton St. Baltimore, MD 21224
S & S Property Solutions, LLC
410-661-0909
809 Gleneagles Court, Suite 119 Towson, MD 21286
Snowden Property Management
443-300-7133
402 E. 25th Street Baltimore, MD 21218
Star Property Management
410-235-7764
3120 St. Paul St., Terrace Ste. Baltimore, MD 21218
Thornhill Properties, Inc
410-296-2877
6301 North Charles St., Ste. 2 Baltimore, MD 21212
Three Pillars Property Management
443-588-5777
606 Main St. Ste. 2 Laurel, MD 20707
Vision Property Management
443-641-9380
1829 Reisterstown Rd., Ste. 350 Pikesville, MD 21208
WPM Real Estate Management
443-796-7400
11433 Cronridge Dr. Owings Mills, MD 21117
About PropertyManagement.com
PropertyManagement.com is an online resource for property owners with expert-advice and data-driven research about management of properties. The website provides a hand-picked list of the best property management companies across the nation. Users can also access free information and easy-to-use tools to help them make educated decisions about their investment property. For more information, visit propertymanagement.com.