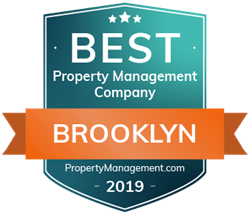 BELLEVUE, Wash. (PRWEB) August 16, 2019
PropertyManagement.com, a leading resource to help property owners identify reliable, trusted, and experienced property management services in the United States, has announced the 2019 Best Property Management Companies in Brooklyn, NY. The guide recognizes 19 top property management firms based on costs, customer rating, reliability, and experience.
PropertyManagement.com used a selection process that evaluated each company across 30 different metrics. After careful assessment of 296 property management companies in the Brooklyn area, only 19 firms were selected for the final list. The research identified companies that scored the highest in outstanding customer reviews, credibility, high-level professionalism and more.
"Our goal is to help property owners make the most of their investments," says Joyce Collins, Recognition Manager. "A reputable property management company can help owners save time and money by advertising rentals, collecting rent, handling maintenance issues and responding to tenant complaints."
In addition to top picks for property management companies, the website also offers tips on rental marketing, tenant screening, liabilities, and a worksheet to keep track of income and expenses. For a detailed listing of the Best Property Management companies in Brooklyn, NY, please visit: https://www.propertymanagement.com/companies-in-brooklyn-ny/
2019 Best Property Management Companies in Brooklyn, New York (in alphabetical order)
Awaye Realty Management LLC
718-222-9840
530 Court Street Brooklyn, NY 11231
Bedford Management
718-388-0025
398 Manhattan Ave Brooklyn, NY 11211
BIG Management
347-482-2339
240 Kent Avenue Brooklyn, NY 11249
Brooklyn Property Managers
718-972-0700
5215 7th Avenue Brooklyn NY, 11220
Brownstone Property Group
718-499-6030
123 7th Ave Brooklyn, NY 11215
E.T. Property Management
718-413-0973
134 8th Street Brooklyn, NY 11215
East Coast Management Solutions
718-473-0073
766 Lafayette, Suite 200 Brooklyn, NY 11221
Esquire Management Corporation
718-375-5900
1716 Coney Island Avenue Brooklyn, NY 11230
Guardian Property Management
718-499-4838
249-B 24th Street Brooklyn, NY 11232
Landlord Management
718-536-2642
44 Court Street, Suite 1217 Brooklyn, New York, 11201
Leiter Property Management
718-387-3700
750 Grand Street, Suite 5s Brooklyn, NY 11211
Maximus Property Management Services
718-369-2040
180 Prospect Park West Brooklyn, NY 11215
Narrows Management of Bay Ridge
718-238-4300
8027 Third Avenue Brooklyn, NY 11209
Sharp Management Corporation
718-258-8800
2365 Nostrand Ave, 2nd floor Brooklyn, NY 11210
TKR Property Management
718-788-7900
430 16th Street Brooklyn, NY 11215
Tristate Property Management
646-499-4950
Middle Village, NY 11379
True Management
718-564-8239
55 Nassau Avenue 3A2 Brooklyn, NY 11222
Trust Management Inc
718-243-9994
199 Lee Ave #315 Brooklyn, NY 11211
Waterfront Property Management
718-302-3180
320 Roebling St #106 Brooklyn NY 11211
About PropertyManagement.com
PropertyManagement.com is an online resource for property owners with expert-advice and data-driven research about management of properties. The website provides a hand-picked list of the best property management companies across the nation. Users can also access free information and easy-to-use tools to help them make educated decisions about their investment property. For more information, visit https://propertymanagement.com.