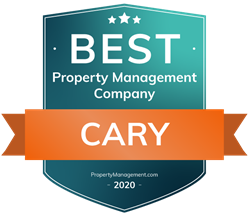 BELLEVUE, Wash. (PRWEB) January 20, 2020
PropertyManagement.com, a leading resource to help property owners identify reliable, trusted, and experienced property management services in the United States, has announced the 2020 Best Property Management Companies in Cary, NC. The guide recognizes 21 top property management firms based on costs, customer rating, reliability, and experience.
PropertyManagement.com used a selection process that evaluated each company across 30 different metrics. After careful assessment of 151 property management companies in the Cary, NC area, only 21 firms were selected for the final list. The research identified companies that scored the highest in outstanding customer reviews, credibility, high-level professionalism and more.
"Our goal is to help property owners make the most of their investments," says Joyce Collins, Recognition Manager. "A reputable property management company can help owners save time and money by advertising rentals, collecting rent, handling maintenance issues and responding to tenant complaints."
In addition to top picks for property management companies, the website also offers tips on rental marketing, tenant screening, liabilities, and a worksheet to keep track of income and expenses. For a detailed listing of the Best Property Management companies in Cary, NC please visit: https://www.propertymanagement.com/companies-in-cary-nc/
2020 Best Property Management Companies in Cary, NC (in alphabetical order)
Bev Roberts Rentals & Property Management
919-306-5665
930 SE Cary Parkway Cary, NC 27518
Block & Associates Realty
919-459-6300
107 Edinburgh South Drive, Suite 100 Cary, NC 27511
Carolina Management
919-363-8996
P.O. Box 146 Apex, NC 27502
Darshana Properties
919-335-3567
106 Tavernelle Place Cary, NC 27519
Foursquare Property Management
919-977-6508
2500 Regency Parkway Cary, NC 27518
Henry Property Management
919-859-2323
523 Keisler Drive, #204 Cary, NC 27518
HRW Realty
919-783-1855
5540 McNeely Drive, Suite 204 Raleigh, NC 27612
Lacy Management
919-355-5317
4004 Barrett Drive, Suite 20 Raleigh, NC 27609
Masterkey Property Management
919-655-3950
150 Cornerstone Drive Cary, NC 27519
Metro Property Management
919-231-3338
1100 Logger Court, Suite D102 Raleigh, NC 2760
NC Real Estate Property Management
919-367-1593
2395 Kildaire Farm Road Cary, NC 27518
Phoenix Property Management
919-544-0809
5108 Highway 55 Durham, NC 27713
Professional Properties Management
919-848-4911
11010 Raven Ridge Road Raleigh, NC 27614
PurpleBird Property Management
919-468-5700
1000 Centre Green Way, Suite 200 Cary, NC 27513
Raleigh Property Management
919-720-4363
8358 Six Forks Road, Suite 101 Raleigh, NC 27615
RentSafe Property Management
919-794-4772
1 Glenwood Avenue, 5th Floor Raleigh, NC 27603
Rhyne Management
919-787-9375
5623 Duraleigh Road, Suite 101 Raleigh, NC 27612
Schambs Property Management
919-803 7789
109 New Edition Court Cary. NC 27511
Southern Group Property Management
919-800-0880
15 E. Martin Street Raleigh, NC 27601
Wilson Property Management
919-782-1717
5520 McNeely Drive, Suite 100 Raleigh, NC 27612
York Properties
919-821-1350
2108 Clark Avenue Raleigh, NC 27605
About PropertyManagement.com
PropertyManagement.com is an online resource for property owners with expert-advice and data-driven research about management of properties. The website provides a hand-picked list of the best property management companies across the nation. Users can also access free information and easy-to-use tools to help them make educated decisions about their investment property. For more information, visit propertymanagement.com.