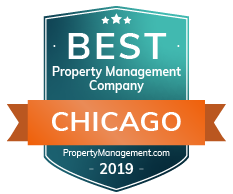 BELLEVUE, Wash. (PRWEB) July 19, 2019
PropertyManagement.com, a leading resource to help property owners identify reliable, trusted, and experienced property management services in the United States, has announced the 2019 Best Property Management Companies in Chicago, IL. The guide recognizes 33 top property management firms based on costs, customer rating, reliability, and experience.
PropertyManagement.com used a selection process that evaluated each company across 30 different metrics. After careful assessment of 313 property management companies in the Chicago area, only 33 firms were selected for the final list. The research identified companies that scored the highest in outstanding customer reviews, credibility, high-level professionalism and more.
"Whether you own one or multiple properties, it can get very stressful dealing with collecting rent, tenant complaints and maintenance issues," says Joyce Collins, Recognition Manager. "We developed this online resource to help simplify the process by connecting property owners with experienced and reputable property management firms."
In addition to top picks for property management companies, the website also offers tips on rental marketing, tenant screening, liabilities, and a worksheet to keep track of income and expenses. For a detailed listing of the Best Property Management companies in Chicago, IL, please visit https://www.propertymanagement.com/companies-in-chicago-il/.
2019 Best Property Management Companies in Chicago, Illinois (in alphabetical order)
33 Realty
773-327-4975
357 West Chicago Ave Chicago, IL 60654
Acorn Property Management
312-455-1012
819 West Grand Avenue Chicago, IL 60622
Andco Management
773-477-3278
4156 North Lincoln Ave Chicago, IL 60618
Chicago Property Management - Home River Group
630-324-4267
302 W 31st Street Chicago, IL 60616
Chicagoland Realty Group
630-423-6020
31 West Downer Place Aurora, IL 60506
CL3 Property Management
773-227-2388
1337 West Wrightwood, Suite 1 Chicago, IL 60614
Connected Property Management
773-772-1142
3047 North Lincoln Avenue, #400 Chicago, IL 60657
Durante & Rich Real Estate
847-221-0058
3824 North Johnsburg Rd Johnsburg, IL 60051
Fairmont Property Management
773-270-5489
2927 North Lincoln Avenue Chicago, IL 60657
Full Circle Realty & Property Management
773-878-3300
422 East 87th Street Chicago, IL 60619
Fulton Grace Realty
773-698-6648
2901 North Halsted Street Chicago, IL 60657
GC Realty & Development
773-446-5533
6046 South Rhodes, Unit 1 Chicago, IL 60637
Green Ivy Realty & Property Management
773-913-2525
4323 West Irving Park Road #1A Chicago, IL 60641
Group Fox Management
773-267-5600
411 East Illinois Street #80 Chicago, IL 60611
Hales Property Management, Inc.
312-666-0149
1411 West Chicago Ave #1 Chicago, IL 60642
Hallmark & Johnson Property Management Group
773-777-6160
6160 North Cicero Avenue #620 Chicago, IL 60646
High Fidelity Property Management
773-697-4112
2501 North Halstead Ave Chicago, IL 60614
Kass Management Services Inc
773-975-7234
2000 North Racine, Suite 4400 Chicago, IL 60614
Mac Property Management
312-755-2771
5220 South Drexel Avenue Chicago, IL 60615
MO2 Properties
773-661-2772
709 North Milwaukee Ave Chicago, Ave 60642
MTD Property Management
773-290-1100
4507 North Lincoln Avenue Chicago, IL 60625
Open Path Realty
773-772-1142
1345 North Ashland Avenue Chicago, IL 60622
Owl Management
773-819-0046
2525 North Elston Street, Ste A110 Chicago, IL 60647
Paragon Property Management
773-913-2031
2405 South Oakley Avenue Chicago, IL 60608
Prairie Shores Property Management
773-878-3300
700 North Sacramento Blvd, #301 Chicago, IL 60612
Real Property Management Chicago Edge
773-904-7700
2636 North Lincoln Avenue Chicago, IL 60614
Root Realty
773-348-8080
4237 North Lincoln Avenue Chicago, IL 60618
Skyline Real Estate and Property Management
847-796-0441
1000 North McLean Blvd Elgin, IL 60123
Stellar Property Group
773-728-0652
5107 North Western Ave Chicago, IL 60625
Tawani Property Management
773-290-1100
7361 North Greenview Avenue Chicago, IL 60626
The ALPS Group
773-904-7700
8779 Laraway Road Frankfort, IL 60423
About PropertyManagement.com
PropertyManagement.com is an online resource for property owners with expert-advice and data-driven research about management of properties. The website provides a hand-picked list of the best property management companies across the nation. Users can also access free information and easy-to-use tools to help them make educated decisions about their investment property. For more information, visit PropertyManagement.com.