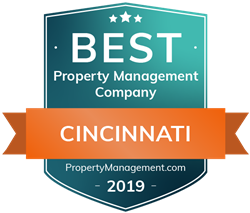 BELLEVUE, Wash. (PRWEB) November 19, 2019
PropertyManagement.com, a leading resource to help property owners identify reliable, trusted, and experienced property management services in the United States, has announced the 2019 Best Property Management Companies in Cincinnati, OH. The guide recognizes 18 top property management firms based on costs, customer rating, reliability, and experience.
PropertyManagement.com used a selection process that evaluated each company across 30 different metrics. After careful assessment of 191 property management companies in the Cincinnati, OH area, only 18 firms were selected for the final list. The research identified companies that scored the highest in outstanding customer reviews, credibility, high-level professionalism and more.
"Our goal is to help property owners make the most of their investments," says Joyce Collins, Recognition Manager. "A reputable property management company can help owners save time and money by advertising rentals, collecting rent, handling maintenance issues and responding to tenant complaints."
In addition to top picks for property management companies, the website also offers tips on rental marketing, tenant screening, liabilities, and a worksheet to keep track of income and expenses. For a detailed listing of the Best Property Management companies in Cincinnati, OH please visit: https://www.propertymanagement.com/companies-in-cincinnati-oh/
2019 Best Property Management Companies in Cincinnati, OH (in alphabetical order)
Advantage Property Management, Inc.
513-984-4114
7712 Blue Ash Rd. Cincinnati, OH 45236
Cincinnati Real Estate Group
513-813-4129
Cincinnati, OH
Cincy Rents
513-842-7368
2726 Observatory Ave Cincinnati, OH 45208
CRES Property Management
513-561-7368
930 Ohio Pike Cincinnati, OH 45245
Federle Inc., Realtors
513-851-4021
12116 Kilbride Dr Cincinnati, OH 45251
Fruth Property Management
513-379-5300
36 E University Ave Cincinnati, OH 45219
Hills Properties
513-984-0300
4901 Hunt Rd. Cincinnati, OH 45242
L & B Management Firm, LLC
513-471-7222
3314 Werk Rd. Cincinnati, OH 45211
Legacies Realty
513-379-3443
600 W. Loveland Ave. #10 Loveland, OH 45140
Paradigm Property Management
513-741-0240
2349 Victory Pkwy. Fl. 1 Cincinnati, Ohio 45206
PMI Gatekeeper Realty Services
513-268-1184
7000 Vail Ct. Cincinnati, OH 45247
RAW Property Management
513-823-2123
5535 Colerain Ave. Cincinnati, OH 45239
Resident Properties
513-916-9106
4240 Airport Rd., Ste. 121 Cincinnati, Ohio 45226
Stonegate Property Management
513-528-3990
431 Ohio Pike, Ste. 210 Cincinnati, OH 45255
Sundance Property Management, LLC
513-489-3363
9918 Carver Rd., Ste. 110 Cincinnati, OH 45242
Sunset Property Solutions
513-321-7000
3053 Madison Rd. Cincinnati, OH 45209
T Properties
513-952-8776
Cincinnati, OH
Treo Rents
513-900-8736
4680 Cooper Rd. Cincinnati, OH 4524
About PropertyManagement.com
PropertyManagement.com is an online resource for property owners with expert-advice and data-driven research about management of properties. The website provides a hand-picked list of the best property management companies across the nation. Users can also access free information and easy-to-use tools to help them make educated decisions about their investment property. For more information, visit propertymanagement.com.