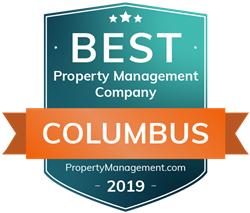 BELLEVUE, Wash. (PRWEB) November 25, 2019
PropertyManagement.com, a leading resource to help property owners identify reliable, trusted, and experienced property management services in the United States, has announced the 2019 Best Property Management Companies in Columbus, OH. The guide recognizes 27 top property management firms based on costs, customer rating, reliability, and experience.
PropertyManagement.com used a selection process that evaluated each company across 30 different metrics. After careful assessment of 220 property management companies in the Columbus, OH area, only 27 firms were selected for the final list. The research identified companies that scored the highest in outstanding customer reviews, credibility, high-level professionalism and more.
"Our goal is to help property owners make the most of their investments," says Joyce Collins, Recognition Manager. "A reputable property management company can help owners save time and money by advertising rentals, collecting rent, handling maintenance issues and responding to tenant complaints."
In addition to top picks for property management companies, the website also offers tips on rental marketing, tenant screening, liabilities, and a worksheet to keep track of income and expenses. For a detailed listing of the Best Property Management companies in Columbus, OH please visit: https://www.propertymanagement.com/companies-in-columbus-oh/
2019 Best Property Management Companies in Columbus, OH (in alphabetical order)
Access More Realty & Property Management
614-269-0700
4102 Anson Drive Hillard, OH 43026
Advanced Realty Management Inc.
614-861-1441.
5350 East Livingston Ave Hillard, OH 43232
Beacon Property Management
866-338-5466
807 East Broad Street Columbus, OH 43205
Borror
614-356-5500
95 North High Street #200 Columbus, OH 43201
Columbus Best Rentals
614-231-7750
2266 ½ East Main Street East Columbus, OH 43209
Columbus Realty Source
614-486-9833
3886 North High Street Columbus, OH 43214
Core Select Property Group
614-468-8456
1355 King Avenue Columbus, OH 43212
Elford Realty
614-545-3133
1220 Dublin Road Columbus, OH 43215
Full Circle Property Management
614-538-1717
1695 Old Henderson Road Columbus, OH 43220
Golden Gate Real Estate
614-888-3600
573 Carle Ave Lewis Center, OH 43035
KBK Enterprises
614-476-3548
4249 Easton Way #220 Columbus, OH 43219
Kohr Royer Griffith
614-228-5547
1480 Dublin Road Columbus, OH 43215
Legacy Management Services
614-622-9811
266 Chittenden Ave Columbus, OH 43201
Myers Real Estate
614-486-2933
1221 Grandview Avenue Columbus, OH 43212
Northpoint Asset Management
614-410-6767
470 Olde Worthington, Suite 200 Westerville, OH 43082
Northwood Properties, Inc
614-263-9798
3145 North High Street Columbus, OH 43202
Oakwood Management Company
614-866-8702
6950 Americana Pkwy A Reynoldsburg, OH 43068
Panzera Realty
614-291-3406
896 King Avenue Columbus, OH 43212
Peak Property Group
614-360-2020
1646 North High Street Columbus, OH 43201
Realty Executives Central
614-261-1935
4701 Olentangy River Road #204 Columbus, OH 43214
Renting Ohio
614-427-3683
8889 Commerce Loop Drive Columbus, OH 43240
RL Property Management Group
614-725-3059
753 East Broad Street Columbus, OH 43205
SBS Management LLC
614-527-7909
4872 Cemetery Road Hillard, OH 43026
Smith Tandy Group
614-224-9255
536 South Wall Street #300 Columbus, OH 43215
Solutions for Real Estate
614-846-3033
1103 Schrock Road, #103 Columbus, OH 43229
The Bray Co
614-839-3900
135 Allview Road Westerville, OH 43081
Wallace F. Ackley Company
614-891-5233
2159 Maple Bend Columbus, OH 43229
About PropertyManagement.com
PropertyManagement.com is an online resource for property owners with expert-advice and data-driven research about management of properties. The website provides a hand-picked list of the best property management companies across the nation. Users can also access free information and easy-to-use tools to help them make educated decisions about their investment property. For more information, visit propertymanagement.com.