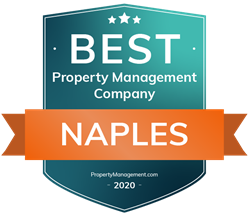 BELLEVUE, Wash. (PRWEB) January 20, 2020
PropertyManagement.com, a leading resource to help property owners identify reliable, trusted, and experienced property management services in the United States, has announced the 2020 Best Property Management Companies in Naples, FL. The guide recognizes 13 top property management firms based on costs, customer rating, reliability, and experience.
PropertyManagement.com used a selection process that evaluated each company across 30 different metrics. After careful assessment of 182 property management companies in the Naples, FL area, only 13 firms were selected for the final list. The research identified companies that scored the highest in outstanding customer reviews, credibility, high-level professionalism and more.
"Our goal is to help property owners make the most of their investments," says Joyce Collins, Recognition Manager. "A reputable property management company can help owners save time and money by advertising rentals, collecting rent, handling maintenance issues and responding to tenant complaints."
In addition to top picks for property management companies, the website also offers tips on rental marketing, tenant screening, liabilities, and a worksheet to keep track of income and expenses. For a detailed listing of the Best Property Management companies in Naples, FL, please visit: https://www.propertymanagement.com/companies-in-naples-fl/.
2020 Best Property Management Companies in Naples, FL (in alphabetical order)
American Property Management Services
239-774-0105
8825 Tamiami Trail East Naples, FL 34113
Golden Property Management and Home Watch Services
239-455-0459
4099 Tamiami Trail North, Suite 200 Naples, Florida 34103
Guardian Property Management
239-514-7432
6704 Lone Oak Boulevard Naples, FL 34109
Gulf Coast Management Group
239-325-4300
2180 Immokalee Road, Suite 309 Naples, Florida 34110
JVM Property Management
805-555-2345
660 Tamiami Trail North, Suite 38 Naples, Florida 34102
Kova Property Management
239-261-2627
9130 Galleria Court, Suite 100 Naples, FL 34109
Naples Trust Property Management
239-263-4474
3096 Tamiami Trail North, Suite 5 Naples, FL 34103
Newell Property Management
239-514-1199
5435 Jaeger Road, #4 Naples, Florida 34109
Phoenix Group of Naples
239-263-4474
1415 Panther Lane, Suite 426 Naples, Florida 34109
Premier Property Management
239-321-6650
1441 Ridge Street Naples, Florida 34103
Signal Real Estate Services
239-649-0620
3727 Enterprise Avenue Naples, Florida 34104
Southwest Property Management
239-261-3440
1044 Castello Drive, Suite 206 Naples, FL 34103
Woodruff Real Estate and Property Management
786-507-5397
1250 Tamiami Trail North, #307 Naples, FL 34102
About PropertyManagement.com
PropertyManagement.com is an online resource for property owners with expert-advice and data-driven research about management of properties. The website provides a hand-picked list of the best property management companies across the nation. Users can also access free information and easy-to-use tools to help them make educated decisions about their investment property. For more information, visit propertymanagement.com.