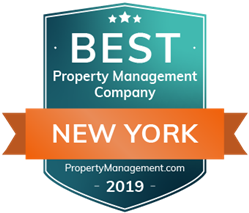 BELLEVUE, Wash. (PRWEB) August 16, 2019
PropertyManagement.com, a leading resource to help property owners identify reliable, trusted, and experienced property management services in the United States, has announced the 2019 Best Property Management Companies in New York, NY. The guide recognizes 23 top property management firms based on costs, customer rating, reliability, and experience.
PropertyManagement.com used a selection process that evaluated each company across 30 different metrics. After careful assessment of 385 property management companies in the New York area, only 23 firms were selected for the final list. The research identified companies that scored the highest in outstanding customer reviews, credibility, high-level professionalism and more.
"Our goal is to help property owners make the most of their investments," says Joyce Collins, Recognition Manager. "A reputable property management company can help owners save time and money by advertising rentals, collecting rent, handling maintenance issues and responding to tenant complaints."
In addition to top picks for property management companies, the website also offers tips on rental marketing, tenant screening, liabilities, and a worksheet to keep track of income and expenses. For a detailed listing of the Best Property Management companies in New York, NY, please visit: https://www.propertymanagement.com/companies-in-new-york-ny/
2019 Best Property Management Companies in New York, NY (in alphabetical order)
All Area Realty Services
866-333-6182
20 Clinton St., C7 New York, NY 10002
Andrew J Markowitz Real Estate, LLC
917-548-9533
200 Park Ave. 17th Floor New York, NY 10166
BCB Property Management
212-886-7700
27 Union Square West, Ste. 503 New York, NY 10003
Camelot Realty Group
212-206-9939
3 West 30th St. New York, NY 10001
Century Operating Corp.
212-560-6400
440 9th Ave. 15th Floor New York, NY 10001
Choice New York Companies
212-982-3600
254 West 31st St., 6th Floor New York, NY 10001
Citadel Property Management Corp.
646-654-0722
513 East 13th St New York NY 10009
Delta Management, LLC
212-753-4120
805 Third Ave., Ste. 1100 New York, NY 10022
EK Realty, LLC
212-957-1770
939 Eighth Ave Ste 301 New York NY 10019
ELIKA Real Estate
212-590-0540
433 Broadway Ste 430 New York, NY 10013
Ferrara Management Group
914-888-2099
375 Park Ave Ste 2607 New York NY 10152
General Property Management
212-757-5180
250 West 57th St. New York, NY 10107
Icon Realty Management
212-675-7100
419 Lafayette 5th Floor New York, NY 10003
Maison International
212-462-4766
119 West 23rd St Ste 801 New York, NY 10011
Real Property Management New York Gold
347-905-5770
161-06 46th Ave. 2nd Floor New York, NY 11358
Rudd Realty Management Corporation
212-319-5000
641 Lexington Ave., 10th Floor New York, NY 10022
Safeguard Realty Management
212-947-0007
38 West 25 St., 4th Floor New York, NY 10001
Slate Property Group
646-439-4000
38 East 29th St. 9th Floor New York, NY 10016
Solstice Residential Group, LLC
212-753-2329
257 Park Ave. South, Ste. 303 New York, NY 10010
Top Hat Home Services
212-706-0300
150 West End Ave Ste 12A New York, NY 10023
Trion Real Estate Management
212-245-1980
829 Midland Avenue Yonkers, NY 10704
VPM Property Management
646-351-6946
45 Rockefeller Plaza, 20th Floor New York, NY 10111
Wayfinder PM
212-330-8000
46 Trinity Place Ste, 200 New York, NY 10003 to 10006
About PropertyManagement.com
PropertyManagement.com is an online resource for property owners with expert-advice and data-driven research about management of properties. The website provides a hand-picked list of the best property management companies across the nation. Users can also access free information and easy-to-use tools to help them make educated decisions about their investment property. For more information, visit propertymanagement.com.