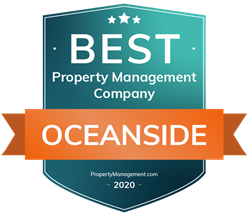 BELLEVUE, Wash. (PRWEB) April 27, 2020
PropertyManagement.com, a leading resource to help property owners identify reliable, trusted, and experienced property management services in the United States, has announced the 2020 Best Property Management Companies in Oceanside, CA. The guide recognizes 23 top property management firms based on costs, customer rating, reliability, and experience.
PropertyManagement.com used a selection process that evaluated each company across 30 different metrics. After careful assessment of 182 property management companies in the Vancouver, WA area, only 23 firms were selected for the final list. The research identified companies that scored the highest in outstanding customer reviews, credibility, high-level professionalism and more.
"Our goal is to help property owners make the most of their investments," says Joyce Collins, Recognition Manager. "A reputable property management company can help owners save time and money by advertising rentals, collecting rent, handling maintenance issues and responding to tenant complaints."
In addition to top picks for property management companies, the website also offers tips on rental marketing, tenant screening, liabilities, and a worksheet to keep track of income and expenses. For a detailed listing of the Best Property Management companies in Oceanside, CA please visit: https://www.propertymanagement.com/companies-in-oceanside-ca/
2020 Best Property Management Companies in Oceanside, CA (in alphabetical order)
5th Avenue Property Management, Inc.
888-264-3812
1902 Wright Place, 2nd Floor, Suite 200 Carlsbad, CA 92008
Best Rental Property Management
760-832-3374
738 W. San Marcos Boulevard, # 106 San Marcos, CA 92078
Chamberlain Property Management
760-434-7373
2653 Roosevelt Street, Suite D Carlsbad, CA 92008
D&M Realty & Management
619-253-8890
3111 Camino Del Rio North, Suite 400 San Diego, CA 92108
FIRST RENT Property Management
858-869-1224
4275 Executive Square, Suite 200 La Jolla, CA 92037
Graf Property Management
760-721-4442
3355 Mission Avenue Oceanside, CA 92058
Guardian Association Management
760-918-1660
2261 Cosmos Court, Suite 101 Carlsbad, CA 92011
Harcourts Avanti Property Management
858-246-7780
445 Marine View Avenue Del Mar, CA 92014
Investors Property Management Group
760-967-4764
2181 El Camino Real, #206 Oceanside, CA 92054
LoCali Management Group LLC
714-747-9074
6789 Quail Hill Parkway Irvine, CA 92603
Maximum Real Estate Services
760-213-6214
707 Mission Avenue Oceanside, CA 92054
McLain Properties
760-434-6161
2715 Carlsbad Boulevard Carlsbad, CA 92008
North County Property Group
858-792-5797
445 Marine View Ave, Suite 240 Del Mar, CA 92014
Oceanside Rental Management
760-978-0675
2003 El Camino Real, #121 Oceanside, CA 92054
Penny Realty, Inc.
858-943-0277
4444 Mission Boulevard Pacific Beach, CA 92109
Premier Community Services LLC
760-724-5900
3608 Ocean Ranch Oceanside, CA 92056
Promise Property Management
760-290-4290
323 N Coast Highway, Suite D Oceanside, CA 92054
Property Advantage, Inc.
760-585-1700
5142 Avenida Encinas Carlsbad, CA 92008
Ranch & Sea Management
760-722-2114
301 Mission Avenue, #105 Oceanside, CA 92054
Real Property Management
760-434-1791
2575 Pio Pico Drive, # 101 Carlsbad, CA 92008
Spangler Realty
760-434-7353
3088 Pio Pico Drive, #101 Carlsbad, CA 92008
Trilar Management Group
760-929-4940
2101 Camino Vida Roble, Suite A Carlsbad, CA 92011
Vantage Realty
714-742-6588
5857 Pine Avenue, Suite B Chino Hills, CA 91709
About PropertyManagement.com
PropertyManagement.com is an online resource for property owners with expert-advice and data-driven research about management of properties. The website provides a hand-picked list of the best property management companies across the nation. Users can also access free information and easy-to-use tools to help them make educated decisions about their investment property. For more information, visit propertymanagement.com.