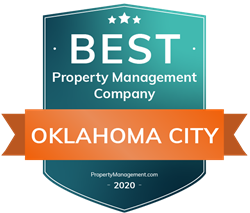 BELLEVUE, Wash. (PRWEB) May 08, 2020
PropertyManagement.com, a leading resource to help property owners identify reliable, trusted, and experienced property management services in the United States, has announced the 2020 Best Property Management Companies in Oklahoma City, OK. The guide recognizes 23 top property management firms based on costs, customer rating, reliability, and experience.
PropertyManagement.com used a selection process that evaluated each company across 30 different metrics. After careful assessment of 152 property management companies in the Oklahoma City, OK area, only 23 firms were selected for the final list. The research identified companies that scored the highest in outstanding customer reviews, credibility, high-level professionalism and more.
"Our goal is to help property owners make the most of their investments," says Joyce Collins, Recognition Manager. "A reputable property management company can help owners save time and money by advertising rentals, collecting rent, handling maintenance issues and responding to tenant complaints."
In addition to top picks for property management companies, the website also offers tips on rental marketing, tenant screening, liabilities, and a worksheet to keep track of income and expenses. For a detailed listing of the Best Property Management companies in Oklahoma City, OK please visit: https://www.propertymanagement.com/companies-in-oklahoma-city-ok/
2020 Best Property Management Companies in Oklahoma City, OK (in alphabetical order)
Capital Real Estate & Asset Management
405-610-6090
9085 Harmony Drive Midwest City, OK 73130
D & S Property Management, Inc.
405-691-0740
11317 S Western Avenue, #800 Oklahoma City, OK 73170
Edmond Premier Home Leasing
405-844-4110
1407 South Fretz Drive Edmond, Oklahoma 73003
Home Leasing & Management
405-919-3507
6608 N Western, #423 Oklahoma City, OK 73116
Homes 4 Lease
405-917-9002
3800 N Portland Avenue, #200 Oklahoma City, OK 73112
Integrity Oklahoma LLC
405-283-6521
6051 N Brookline Avenue, #135A Oklahoma City, OK 73112
Kevo Property Management
405-246-9669
2422 N Robinson Avenue Oklahoma City, OK 73103
Key Realty and Property Management
405-605-6445
426 NW 5th Street, Suite 150 Oklahoma City, OK 73102
Miller Home Solutions
405-228-4906
820 NW 13th Street Oklahoma City, OK 73106
Net Management
405-701-3686
116 W. Main Street Norman, OK 73069
OKC Home Realty Services LLC
405-232-5800
2532 W I 44 Service Road Oklahoma City, OK 73112
PMI Oklahoma City
405-518-0103
2525 Northwest Expressway, Suite 624 Oklahoma City, OK 73112
Property Frameworks
855-744-4268
9636 N May Avenue, #275 The Village, OK 73120
Property Management & Realty
405-359-001
1751 W 33rd Street, Suite 110 Edmond, OK 73013
RE/MAX Energy Property Management
405-919-0460
335 S Mustang Road Yukon, OK 73099
Real Property Management Enterprises
405-463-2147
3141 NW 63rd Oklahoma City, OK 73116
Southwest Home Rentals, Inc.
405-681-7272
4524 S May Avenue Oklahoma City, OK 73119
Spectrum Management Service
405-848-9400
4801 N Classen Boulevard, #131 Oklahoma City, OK 73118
Sterling Property Management
405-310-2222
15100 S Western Avenue, #100 Oklahoma City, OK 73170
Success Management and Consultants, Inc.
405-474-7001
310 NE 28th Street, #208 Oklahoma City, OK 73105
T & J Property Management
405-600-6911
7220 S Western Avenue Oklahoma City, OK 73139
The Brown Group Real Estate & Investments
405-607-1311
6001 Northwest Expressway Oklahoma City, OK 73132
Yukon Homes 4 Rent & Property Management
405-354-3710
820 N MacArthur Boulevard Oklahoma City, OK 73127
About PropertyManagement.com
PropertyManagement.com is an online resource for property owners with expert-advice and data-driven research about management of properties. The website provides a hand-picked list of the best property management companies across the nation. Users can also access free information and easy-to-use tools to help them make educated decisions about their investment property. For more information, visit propertymanagement.com.