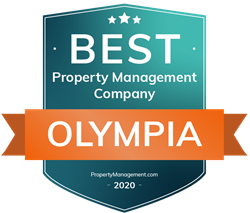 BELLEVUE, Wash. (PRWEB) January 10, 2020
PropertyManagement.com, a leading resource to help property owners identify reliable, trusted, and experienced property management services in the United States, has announced the 2020 Best Property Management Companies in Olympia, WA. The guide recognizes 16 top property management firms based on costs, customer rating, reliability, and experience.
PropertyManagement.com used a selection process that evaluated each company across 30 different metrics. After careful assessment of 59 property management companies in the Olympia, WA area, only 16 firms were selected for the final list. The research identified companies that scored the highest in outstanding customer reviews, credibility, high-level professionalism and more.
"Our goal is to help property owners make the most of their investments," says Joyce Collins, Recognition Manager. "A reputable property management company can help owners save time and money by advertising rentals, collecting rent, handling maintenance issues and responding to tenant complaints."
In addition to top picks for property management companies, the website also offers tips on rental marketing, tenant screening, liabilities, and a worksheet to keep track of income and expenses. For a detailed listing of the Best Property Management companies in Olympia, WA please visit: https://www.propertymanagement.com/companies-in-olympia-wa/
2020 Best Property Management Companies in Olympia, WA (in alphabetical order)
Capital Development Company
360-491-6850
3709 Griffin Lane SE Olympia, WA 98501
Cycle Real Estate
360-753-0916
115 McCormick Street NE Olympia, WA 98506
Greene Property Management
360-528-4166
1722 Harrison Avenue NW, Suite B Olympia, WA 98502
Hometown Property Management
360-456-7368
1600 4th Avenue E Olympia, WA 98506
Kenzie Property Management
360-539-1226
3905 Martin Way E D1 Olympia, WA 98503
Lighthouse Property Management
360-528-2362
900 Fairview Street SE Olympia, WA 98501
MVP Realty Group
360-915-9123
1219 11th Avenue SE Olympia, WA 98501
Olympic Management Co.
360-438-6229
3622 57th Lane SE Olympia, WA 98501
Olympic Rental & Landlord Services LLC
360-878-0051
122 Capitol Way N Olympia, WA 98501
Pettit Property Management
360-459-1234
5500 Pacific Avenue SE Lacey, WA 98503
Raad Properties
360-753-2999
128 10th Avenue SW Olympia, WA 9850
Team NW Property Management
360-357-8140
3009 Pacific Avenue SE Olympia, WA 98501
Teck Real Estate Services
360-628-0000
4460 Pacific Avenue SE, Suite B Lacey, WA 98503
ThunderBay Management
360-866-6633
3025 Limited Lane NW Olympia, WA 98502
Weichert Realtors Reynolds Real Estate and Property Management
360-412-6731
2607 Martin Way E, Suite 202 Olympia, WA 98506
Windermere Property Management Olympia
360-943-4189
2312 Pacific Avenue SE Olympia, WA 98501
About PropertyManagement.com
PropertyManagement.com is an online resource for property owners with expert-advice and data-driven research about management of properties. The website provides a hand-picked list of the best property management companies across the nation. Users can also access free information and easy-to-use tools to help them make educated decisions about their investment property. For more information, visit propertymanagement.com.