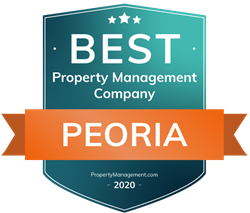 BELLEVUE, Wash. (PRWEB) March 12, 2020
PropertyManagement.com, a leading resource to help property owners identify reliable, trusted, and experienced property management services in the United States, has announced the 2020 Best Property Management Companies in Peoria, AZ. The guide recognizes 13 top property management firms based on costs, customer rating, reliability, and experience.
PropertyManagement.com used a selection process that evaluated each company across 30 different metrics. After careful assessment of 234 property management companies in the Peoria, AZ area, only 13 firms were selected for the final list. The research identified companies that scored the highest in outstanding customer reviews, credibility, high-level professionalism and more.
Our goal is to help property owners make the most of their investments," says Joyce Collins, Recognition Manager. "A reputable property management company can help owners save time and money by advertising rentals, collecting rent, handling maintenance issues and responding to tenant complaints."
In addition to top picks for property management companies, the website also offers tips on rental marketing, tenant screening, liabilities, and a worksheet to keep track of income and expenses. For a detailed listing of the Best Property Management companies in Peoria, AZ please visit: https://www.propertymanagement.com/companies-in-peoria-az/.
2020 Best Property Management Companies in Peoria, AZ (in alphabetical order)
Active Renter Property Management
602-635-1063
3602 E Greenway Road, Suite #105 Phoenix, AZ 85032
Advantage Arizona Real Estate & Property Management
623-572-7820
P.O. Box 2518 Sun City, AZ 85372
Darwin Jones Property Management
623-546-8122
9460 West Peoria Avenue, D Peoria, AZ 85345
Mari's Property Management & Cleaning Services
623-266-9051
9516 West Peoria Avenue Peoria, AZ 85345
Planned Development Services
623-877-1396
14100 North 83rd Avenue, Suite 200 Peoria, AZ 85381
Rapido Realty
623-444-9057
9840 West Yearling Road, E-1200 Peoria, AZ 85383
Real Property Management Phoenix Valley
602-358-8130
706 East Bell Road, #115 Phoenix, AZ 85022
Residential Property Investment & Management LLC
623-628-0057
8465 Grand Avenue Peoria, AZ 85345
Skidmore Realty & Property Management LLC
623-330-4281
P.O. Box 6000 Peoria, AZ 85385
THE BROKERY
602-418-6145
2400 E Missouri Avenue Phoenix, AZ 85016
Ultimate Properties
623-376-8870
8518 West Deer Valley Road, #100 Peoria, AZ 85382
Valentine Property Management
602-866-0150
8631 West Union Hills Drive, #202 Peoria, AZ 85382
West USA Realty
602-942-4200
4505 E Chandler Boulevard Phoenix, AZ 85048
About PropertyManagement.com
PropertyManagement.com is an online resource for property owners with expert-advice and data-driven research about management of properties. The website provides a hand-picked list of the best property management companies across the nation. Users can also access free information and easy-to-use tools to help them make educated decisions about their investment property. For more information, visit propertymanagement.com.