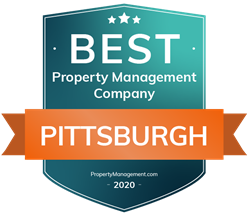 BELLEVUE, Wash. (PRWEB) March 26, 2020
PropertyManagement.com, a leading resource to help property owners identify reliable, trusted, and experienced property management services in the United States, has announced the 2020 Best Property Management Companies in Pittsburgh, PA. The guide recognizes 22 top property management firms based on costs, customer rating, reliability, and experience.
PropertyManagement.com used a selection process that evaluated each company across 30 different metrics. After careful assessment of 158 property management companies in the Pittsburgh, PA area, only 22 firms were selected for the final list. The research identified companies that scored the highest in outstanding customer reviews, credibility, high-level professionalism and more.
"Our goal is to help property owners make the most of their investments," says Joyce Collins, Recognition Manager. "A reputable property management company can help owners save time and money by advertising rentals, collecting rent, handling maintenance issues and responding to tenant complaints."
In addition to top picks for property management companies, the website also offers tips on rental marketing, tenant screening, liabilities, and a worksheet to keep track of income and expenses. For a detailed listing of the Best Property Management companies in Pittsburgh, PA please visit: https://www.propertymanagement.com/companies-in-pittsburgh-pa/
2020 Best Property Management Companies in Pittsburgh, PA (in alphabetical order)
A.M.O. Property Management
412-385-3273
413 McKee Place Pittsburgh, PA 15213
Acri Community Realty
412-459-0111
290 Perry Highway Pittsburgh, PA 15229
Arbors Management
800-610-2535
1010 Western Avenue, Suite 300 Pittsburgh, PA 15233
Berkshire Hathaway Home Services
724-733-7100
3820 Old William Penn Highway Murrysville, PA 15668
Brix Property Management
412-256-8031
5150 Penn Avenue, 2nd Floor Pittsburgh, PA 15224
Delta Property Management
724-719-2163
2000 Corporate Drive, Suite 240 Wexford, PA 15090
Dourid Aboud Property Management
412-414-9629
208 Fieldgate Drive Pittsburgh, PA 15241
Forbes Management
412-441-1211
6236 Fifth Avenue, Suite 105C Pittsburgh, PA 15232
Fort Pitt Property Management
412-906-4256
200 Cedar Ridge, Suite 206 Pittsburgh, PA 15205
Laurel Real Estate Services
412-407-7756
250 Cedar Ridge Drive, #112 Monroeville, PA 15146
Mace Property Management
412-279-0404
552 Washington Avenue Carnegie, PA 15106
Meyers Management Company
412-682-5886
5 Bayard Road Pittsburgh, PA 15213
Nexus Real Estate & Brokerage
412-455-5600
2535 West Liberty Avenue Pittsburgh, PA 15226
Pioneer Realty Consultants
855-400-1212
1735 East Carson Street Pittsburgh, PA 15203
Property Manager Masters
412-567-8245
PO Box 11033 Pittsburgh, PA 15237
Prudential Realty Company
412-261-6500
3700 South Water Street Pittsburgh, PA 15203
Real Property Management Pittsburgh
412-600-4824
134 South Highland Pittsburgh, PA 15206
Steiner Realty
412-242-0273
100 East Swissvale Avenue Pittsburgh, PA 15218
SVN | TRCA Property Management
412-535-5785
309 Smithfield Street, 5th Floor Pittsburgh, PA 15222
The Rubinoff Company
412-231-1000
925 Liberty Avenue Pittsburgh, PA 15222
Three Rivers Property Management
412-531-1500
6409 Brownsville Road Pittsburgh, PA 15236
Union Real Estate
412-288-7800
301 Grant Street, Suite 1250 Pittsburgh, PA 15219
About PropertyManagement.com
PropertyManagement.com is an online resource for property owners with expert-advice and data-driven research about management of properties. The website provides a hand-picked list of the best property management companies across the nation. Users can also access free information and easy-to-use tools to help them make educated decisions about their investment property. For more information, visit propertymanagement.com.