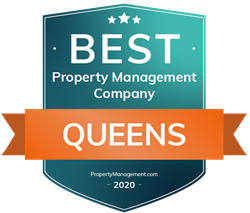 BELLEVUE, Wash. (PRWEB) May 15, 2020
PropertyManagement.com, a leading resource to help property owners identify reliable, trusted, and experienced property management services in the United States, has announced the 2020 Best Property Management Companies in Queens, NY. The guide recognizes 25 top property management firms based on costs, customer rating, reliability, and experience.
PropertyManagement.com used a selection process that evaluated each company across 30 different metrics. After careful assessment of 225 property management companies in the Queens, NY area, only 25 firms were selected for the final list. The research identified companies that scored the highest in outstanding customer reviews, credibility, high-level professionalism and more.
"Our goal is to help property owners make the most of their investments," says Joyce Collins, Recognition Manager. "A reputable property management company can help owners save time and money by advertising rentals, collecting rent, handling maintenance issues and responding to tenant complaints."
In addition to top picks for property management companies, the website also offers tips on rental marketing, tenant screening, liabilities, and a worksheet to keep track of income and expenses. For a detailed listing of the Best Property Management companies in Queens, NY please visit: https://www.propertymanagement.com/companies-in-queens-ny/
2020 Best Property Management Companies in Queens, NY (in alphabetical order)
A&R Properties Group
212-273-0794
2041 Fifth Avenue, 1st Floor New York, NY 10018
A. Michael Tyler Realty Corp.
877-641-5900
122 East 42nd Street, Suite 1700 New York, NY 10168
Block Management, Inc.
718-255-9090
23-25 31st Street, Suite 600 Astoria, NY 11105
Blue Harbour Property Management
718-962-8560
118-35 Queens Boulevard, Suite 400 Forest Hills, NY 11375
Carollo Management
718-747-7747
11-05 154th Street Whitestone, NY 11357
Clinton Management
718-281-2400
42-06 235th Street Douglaston, NY 11363
DELKAP Management, Inc.
718-848-6488
82-12 151st Avenue Howard Beach, NY 11414
Einsidler Management, Inc.
718-233-1390
535 Broadhollow Road, Suite A-15 Melville, NY 11746
Landlord Management
718-536-2642
44 Court Street, Suite 1217 Brooklyn, NY 11201
Langsam Property Services
718-518-8000
1601 Bronxdale Avenue Bronx, NY 10462
Leiter Property Management
718-387-3700
750 Grand Street, Suite 5s, Brooklyn, NY 11211
Mark Greenberg Real Estate
516-944-5000
30-30 Northern Boulevard, Suite 400 Long Island City, NY 11101
Metropolitan Property Group
212-353-2003
184 Fifth Avenue, Third Floor New York, NY 10010
Minskoff Grant Realty and Management Corp
914-686-7300
55 Church Street, Suite 207 White Plains, NY 10601
Pliskin Realty and Development, Inc.
519-997-0100
591 Stewart Avenue, Suite 100 Garden City, NY 11530
Rachlin Management
718-575-9292
69-09 108th Street, Suite 1A Forest Hills, NY 11375
Real Property Management Innovation
516-570-9275
70 East Sunrise Highway, Suite 500 Valley Stream, NY 11581
Red Group Management
718-327-3600
148 Beach 9th Street, Unit 2A Far Rockaway, NY 11691
Shinda Management
718-740-0416
221-10 Jamaica Avenue, 3rd Floor Queens Village, NY 11428
The Lovett Group LLC
718-445-9500
109-15 14th Avenue College Point, NY 11356
Total Management NYC LLC
718-312-8841
2493 Arthur Avenue Bronx, NY 10458
Tudor Realty Services Corp.
212-557-3600
250 Park Avenue South New York, NY 10003
Vanderbilt Property Management LLC
212-736-0112
205 West 91st Street, Suite 1C New York, NY 10024
Venture NY Property Management LLC
718-626-8833
36-30 37th Street Long Island City, NY 11101
Werba Realty
718-456-9600
66-45 Fresh Pond Road Ridgewood, NY 11385
About PropertyManagement.com
PropertyManagement.com is an online resource for property owners with expert-advice and data-driven research about management of properties. The website provides a hand-picked list of the best property management companies across the nation. Users can also access free information and easy-to-use tools to help them make educated decisions about their investment property. For more information, visit propertymanagement.com.