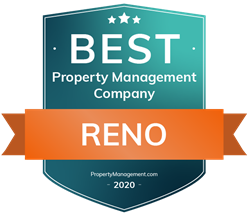 BELLEVUE, Wash. (PRWEB) February 11, 2020
PropertyManagement.com, a leading resource to help property owners identify reliable, trusted, and experienced property management services in the United States, has announced the 2020 Best Property Management Companies in Reno, NV. The guide recognizes 21 top property management firms based on costs, customer rating, reliability, and experience.
PropertyManagement.com used a selection process that evaluated each company across 30 different metrics. After careful assessment of 154 property management companies in the Reno, NV area, only 21 firms were selected for the final list. The research identified companies that scored the highest in outstanding customer reviews, credibility, high-level professionalism and more.
"Our goal is to help property owners make the most of their investments," says Joyce Collins, Recognition Manager. "A reputable property management company can help owners save time and money by advertising rentals, collecting rent, handling maintenance issues and responding to tenant complaints."
In addition to top picks for property management companies, the website also offers tips on rental marketing, tenant screening, liabilities, and a worksheet to keep track of income and expenses. For a detailed listing of the Best Property Management companies in Reno, NV please visit: https://www.propertymanagement.com/companies-in-reno-nv/
2020 Best Property Management Companies in Reno, NV (in alphabetical order)
Action Properties
775-323-0404
675 West Moana Lane, Suite 200 Reno, NV 89509
Alder Properties
775-825-8880
2470 Wrondel Way, Suite 200 Reno, NV 89502
Britt Management Group
775-850-7007
3392 Lakeside Court Reno, NV 89509
Chris Johnson Group
775-850-3106
500 Damonte Ranch Parkway, #625 Reno, NV, 89521
Clark Real Estate Property Management
775-828-3355
305 West Moana Lane Reno, NV 89509
Dickson Rental Management
775-284-4401
500 Damonte Ranch Parkway Reno, NV 89521
Diversified Property Management
775-825-7734t
3386 Lakeside Court Reno, NV 89509
Gaston & Wilkerson
775-828-1911
4751 Caughlin Parkway Reno, NV 89519
Hallmark Investments & Management
775-786-8488
575 E. Plumb Lane, #200 Reno, NV 89502
Nevada Commercial Services
775-851-3666
1475 Terminal Way, Suite A Reno, NV 89502
New Dimensions
775-322-1093
5301 Longley Lane, #3A Reno, NV 89511
PMI Reno
775-624-5334
63 Keystone Avenue, Suite 104 Reno, NV 89503
Real Property Management Corazon
775-826-1414
254 Vassar Street Reno, Nevada 89502
Realty Boulevard
775-622-1445
7510 Longley Lane Reno, NV 89511
Reno Country Properties
775-409-4510
10725 Double R Boulevard, Suite B Reno, NV 89521
Reno Property Management
775-329-7070
1575 Delucchi Lane, Suite #224 Reno, NV 89502
Ross Rentals
775-359-7677
PO Box 40516 Reno, NV 89504
Shoenberger & Shoenberger
775-324-4646
1665 Lakeside Drive, #102 Reno, NV 89509
Stark & Associates Commercial Real Estate
775-825-4403
9855 Double R Boulevard, Suite 200 Reno, Nevada 89521
Truckee Meadows Property Management
775-224-4508
1135 Terminal Way, #106 Reno, NV 89502
Welcome Home Real Estate & Property Management
775-200-1331
10399 Double R Boulevard, #101 Reno, NV 89521
About PropertyManagement.com
PropertyManagement.com is an online resource for property owners with expert-advice and data-driven research about management of properties. The website provides a hand-picked list of the best property management companies across the nation. Users can also access free information and easy-to-use tools to help them make educated decisions about their investment property. For more information, visit propertymanagement.com.