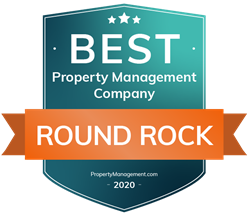 BELLEVUE, Wash. (PRWEB) May 01, 2020
PropertyManagement.com, a leading resource to help property owners identify reliable, trusted, and experienced property management services in the United States, has announced the 2020 Best Property Management Companies in Round Rock, TX. The guide recognizes 23 top property management firms based on costs, customer rating, reliability, and experience.
PropertyManagement.com used a selection process that evaluated each company across 30 different metrics. After careful assessment of 182 property management companies in the Round Rock, TX area, only 23 firms were selected for the final list. The research identified companies that scored the highest in outstanding customer reviews, credibility, high-level professionalism and more.
"Our goal is to help property owners make the most of their investments," says Joyce Collins, Recognition Manager. "A reputable property management company can help owners save time and money by advertising rentals, collecting rent, handling maintenance issues and responding to tenant complaints."
In addition to top picks for property management companies, the website also offers tips on rental marketing, tenant screening, liabilities, and a worksheet to keep track of income and expenses. For a detailed listing of the Best Property Management companies in Round Rock, TX please visit: https://www.propertymanagement.com/companies-in-round-rock-tx/
2020 Best Property Management Companies in Round Rock, TX (in alphabetical order)
Amazing Realty
512-710-4000
893 North I35, Suite 100 Round Rock, TX 78664
Ambassador Property Management
512-351-7800
1000 Heritage Center Circle Round Rock, TX 78664
Austin Landmark Property Services (ALPS)
512-794-8171
11573 Jollyville Road Austin, TX 78759
Bigham & Associates, LLC
512-339-8112
12019 Trotwood Drive Austin, TX 78753
EG Property Management
512-394-6386
P.O. Box 684674 Austin, TX 78768
GDAA Property Management LLC
512-439-3600
2300 Greenhill Drive, Building 2, Suite 250 Round Rock, TX 78664
Guerin Property Services
512-296-2158
1150 Lakeway Drive, Suite 212 Austin, Texas 78734
Hope Properties
512-260-7007
1203 Doris Lane Cedar Park, TX 78613
KeyRenter Austin Property Management
512-596-0055
4425 S Mopac Expressway, Building 2, Suite 205 Austin, TX 78735
Maximus Residential
512-831-7094
P.O. Box 91465 Austin, TX 78709
Monte Davis Property Management
512-861-8089
12302 Buffalo Grove Cove Austin, TX 78739
Morris Green Properties
844-736-8512
820 Brentwood Street Austin, TX 78757
Our House Properties
512-456-7600
16238 Highway 620, Suite F-373 Austin TX 78717
Peach Blossom Properties
512-538-5573
11782 Jollyville Road Austin, TX 78759
PS Property Management
512-251-6122
P.O. Box 7079 Round Rock, TX 78683
RAM Austin Property Management
512-200-3834
P.O. Box 10331 Austin, TX 78766
Rave Property Management
512-377-1486
555 Round Rock West Drive, Suite 206 Round Rock, TX 78681
RentWerx Austin
512-980-0888
901 South MoPac Expressway, Building 1, Suite 300 Austin, TX 78746
Rollingwood Management, Inc.
512-327-4451
3355 Bee Cave Road, Suite 504 Austin, TX 78746
Shippy Properties
512-645-0444
1515 S. Capital of Texas Highway, Suite 220 Austin, TX 78746
Talk Property Management
512-721-1094
9600 Great Hills Trail Austin, TX 78759
The Property Management Company
512-255-7575
2007 N Mays Street Round Rock, TX 78664
Trinity Texas Property Management
512-279-4596
2251 South Bagdad Road, Building 1, Unit 101-102 Cedar Park, TX 78613
About PropertyManagement.com
PropertyManagement.com is an online resource for property owners with expert-advice and data-driven research about management of properties. The website provides a hand-picked list of the best property management companies across the nation. Users can also access free information and easy-to-use tools to help them make educated decisions about their investment property. For more information, visit propertymanagement.com.