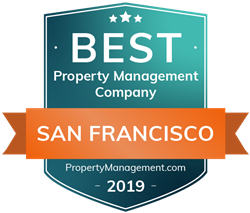 BELLEVUE, Wash. (PRWEB) October 08, 2019
PropertyManagement.com, a leading resource to help property owners identify reliable, trusted, and experienced property management services in the United States, has announced the 2019 Best Property Management Companies in San Francisco, CA. The guide recognizes 25 top property management firms based on costs, customer rating, reliability, and experience.
PropertyManagement.com used a selection process that evaluated each company across 30 different metrics. After careful assessment of 332 property management companies in the San Francisco area, only 25 firms were selected for the final list. The research identified companies that scored the highest in outstanding customer reviews, credibility, high-level professionalism and more.
"Our goal is to help property owners make the most of their investments," says Joyce Collins, Recognition Manager. "A reputable property management company can help owners save time and money by advertising rentals, collecting rent, handling maintenance issues and responding to tenant complaints."
In addition to top picks for property management companies, the website also offers tips on rental marketing, tenant screening, liabilities, and a worksheet to keep track of income and expenses. For a detailed listing of the Best Property Management companies in San Francisco, CA, please visit: https://www.propertymanagement.com/companies-in-san-francisco-ca/
2019 Best Property Management Companies in San Francisco, California (in alphabetical order)
A.C. Goldt Realty & Property Management Inc.
510-357-3350
433 Estudillo Ave., Ste. 101 San Leandro, CA 94577
Advent Properties
510-250-7918
315 Montgomery St., Floor 8San Francisco, CA 94104
Azari Property Management
415-377-4115
Spear Tower 36th Floor, Ste. 3507 San Francisco, CA 94105
Bay Property Group
510-836-0110
482 West MacArthur Blvd. Oakland, CA 94609
Berendt Properties
415-854-3922
2209 Lombard St. San Francisco, CA 94123
Boardwalk Investments Property Management
650-355-5556
715 El Camino Real, Ste. 212 San Bruno, CA 94066
Chandler Properties
415-921-5733
2799 California St. San Francisco, CA 94115
Citywide Property Management
415-552-7300
5517 California St. San Francisco, CA 94121
De Wolf Realty Co
415-221-2032
4330 California St. San Francisco, CA 94118
Five Star Property Management
650-591-3868
201 Spear St. Ste. 1100 - #3256 San Francisco, CA 94105*
Golden Gate Properties
415-498-0066
1199 De Haro St. San Francisco, CA 94107
Gordon Property Management
415-554-8812
1596 Church St. San Francisco, CA 94131
Greentree Property Management
415-347-8600
724 Pine St. San Francisco, CA 94108
Hanford Freund
415-981-5780
47 Kearny St. San Francisco, CA 94108
Jackson Group Property Management
415-379-9035
1806 Balboa St. San Francisco, CA 94121
Leading Properties
415-346-8600
1801 Van Ness Ave. Ste. 340 San Francisco, CA 94109
Litke Properties, Inc.
415-922-0178
3490 California St. Ste. 206 San Francisco, CA 94118
Nest Property
650-834-2276
533 Airport Blvd., Ste. 388 Burlingame, CA 94010
Property Force
415-539-3949
2030 Union St. Ste. 206 San Francisco, CA 94123
Property Management SF
415-230-0770
350 Rhode Island Ste. 240 San Francisco, CA 94103
ResCom Properties
707-746-6500
110 East D St., Ste. H Benicia, CA 94510
Structure Properties
415-237-6240
100 Green St. San Francisco, CA 94111
Valstock Management
415-874-9288
635 Vallejo St. San Francisco, CA 94133
West Coast Property Management
415-885-6970
714 Van Ness Ave San Francisco, CA 94102
William Hill Property Management & Leasing
415-441-1484
2525 Van Ness Ave #214 San Francisco CA 94109
About PropertyManagement.com
PropertyManagement.com is an online resource for property owners with expert-advice and data-driven research about management of properties. The website provides a hand-picked list of the best property management companies across the nation. Users can also access free information and easy-to-use tools to help them make educated decisions about their investment property. For more information, visit propertymanagement.com.