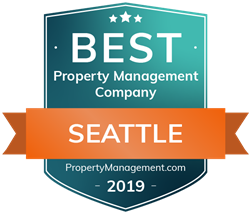 BELLEVUE, Wash. (PRWEB) August 30, 2019
PropertyManagement.com, a leading resource to help property owners identify reliable, trusted, and experienced property management services in the United States, has announced the 2019 Best Property Management Companies in Seattle, WA. The guide recognizes 33 top property management firms based on costs, customer rating, reliability, and experience.
PropertyManagement.com used a selection process that evaluated each company across 30 different metrics. After careful assessment of 272 property management companies in the Seattle area, only 33 firms were selected for the final list. The research identified companies that scored the highest in outstanding customer reviews, credibility, high-level professionalism and more.
"Our goal is to help property owners make the most of their investments," says Joyce Collins, Recognition Manager. "A reputable property management company can help owners save time and money by advertising rentals, collecting rent, handling maintenance issues and responding to tenant complaints."
In addition to top picks for property management companies, the website also offers tips on rental marketing, tenant screening, liabilities, and a worksheet to keep track of income and expenses. For a detailed listing of the Best Property Management companies in Seattle, WA, please visit: https://www.propertymanagement.com/companies-in-seattle-wa/
2019 Best Property Management Companies in Seattle, Washington (in alphabetical order)
35R Solutions
206-601-836
14150 NE 20th St, Ste F1-227 Bellevue, WA 98007
ACRES Property Management
206-696-2273
22513 Marine View Dr, Ste 204 Des Moines, WA 98189
Allegra Properties
206-441-9191
88 Lenora St Seattle, WA 98121
APMPros Property Management
206-899-6160
3601 Fremont Ave N, Ste 314 Seattle, WA 98103
Apple Property Management
206-285-2352
3050 15th Ave W Seattle, WA 98119
Avenue One Residential
206-458-4096
2212 Queen Anne Ave N, Ste 724 Seattle, WA 98109
Coldwell Banker Bain Property Management
425-602-4150
550 Kirkland Way, Ste 100B Kirkland, WA 98033
Comble Property Management
425-458-1002
4049 Ames Lake-Carnation Rd NE Redmond, WA 98053
Davis Property Management
425-658-7471
6500 24th Ave NW Ballard Ave Seattle, WA 98117
Dwellings Seattle Real Estate & Property Management
206-257-0457
3806 California Ave SW Seattle, WA 98116
Elita Living Real Estate, LLC
206-323-0771
650 S. Orcas St, Ste 206 Seattle, WA 98108-2652
Emerald Management & Consulting
206-641-9631
14900 Interurban Avenue South, Ste 271 Seattle, WA 98168
Epic Asset Management
206-505-8000
219 E Garfield St Seattle, WA 98102
Full Service Property Management
206-900-9006
12418 83rd Ave S Seattle, WA 98178
Guide Property Services
206-737-8171
2930 Westlake Ave N, Ste 100 Seattle, WA 98109
Koss Property Management
206-729-3630
5236 University Way NE Seattle, WA 98105
Longley Property Management
206-937-3522
4850 California Ave SW, Ste 200A Seattle, WA 98116
Lori Gill & Associates
206-527-0400
819 NE 65th St Seattle, WA 98115
MacPherson's Property Management
253-288-0603
18551 Aurora Ave N Shoreline, WA 98133
Maple Leaf Property Management LLC
206-250-7367
8809 Roosevelt Way NE Seattle, WA 98115
North Pacific Properties
206-781-0186
2224 Queen Anne Ave N Seattle, WA 98109
Pacific Rim Investment & Property Management Enterprises, Inc.
206-726-0878
3109 Franklin Ave E Seattle, WA 98102
Powell Property Management
206-824-3733
22528 Marine View Dr. S Des Moines, WA 98198
RD House Real Estate & Property Management
206-728-6063
1819, 6322 Fauntleroy Way SW Seattle, WA 98136
Real Property Management Eclipse
425-209-0252
19125 N Creek Pkwy, Ste 120 Bothell, WA 98011
Sagen Group Property Management
206-365-0000
11065 5th Ave NE Seattle, WA 98125
Seattle's Property Management
206-856-6000
8315 5th Ave NE Suite A Seattle, WA 98115
SJA Property Management
425-658-1920
16398 NE 85th St, Ste 201 Redmond, WA 98052
Sound Point Property Management
206-397-3829
1400 N 80th St, Ste 102 Seattle, WA 98103
South Lake Associates
206-452-2001
1333 N Northlake Way Seattle, WA 98103
T-Square Properties
425-485-1800
19125 North Creek Pkwy, Ste 208 Bothell, WA 98011
Trinity Partnership Real Estate Development
206-505-9420
3316 Fuhrman Ave E Suite 200 Seattle, WA 98102
Umano Property Management
206-686-3661
9750 3rd Ave NE, Ste 425 Seattle, WA 98115
About PropertyManagement.com
PropertyManagement.com is an online resource for property owners with expert-advice and data-driven research about management of properties. The website provides a hand-picked list of the best property management companies across the nation. Users can also access free information and easy-to-use tools to help them make educated decisions about their investment property. For more information, visit propertymanagement.com.