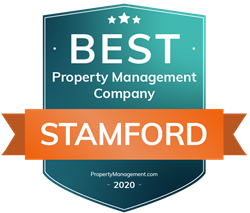 BELLEVUE, Wash. (PRWEB) February 11, 2020
PropertyManagement.com, a leading resource to help property owners identify reliable, trusted, and experienced property management services in the United States, has announced the 2020 Best Property Management Companies in Stamford, CT. The guide recognizes 24 top property management firms based on costs, customer rating, reliability, and experience.
PropertyManagement.com used a selection process that evaluated each company across 30 different metrics. After careful assessment of 146 property management companies in the Stamford, CT area, only 24 firms were selected for the final list. The research identified companies that scored the highest in outstanding customer reviews, credibility, high-level professionalism and more.
"Our goal is to help property owners make the most of their investments," says Joyce Collins, Recognition Manager. "A reputable property management company can help owners save time and money by advertising rentals, collecting rent, handling maintenance issues and responding to tenant complaints."
In addition to top picks for property management companies, the website also offers tips on rental marketing, tenant screening, liabilities, and a worksheet to keep track of income and expenses. For a detailed listing of the Best Property Management companies in Stamford, CT please visit: https://www.propertymanagement.com/companies-in-stamford-ct/
2020 Best Property Management Companies in Stamford, CT (in alphabetical order)
AJM Real Estate Services
203-353-8133
1200 Summer Street Stamford, CT 06905
AM Realty Management Corp.
203-967-3766
76 Progress Drive #205 Stamford, CT 06902
Andrew Davis Realtor
203-249-7430
1200 High Ridge Road Stamford, CT 06905
Aspect Property Management
203-348-8200
1200 Summer Street, #201a Stamford, CT 06905
Atlas Property Management LLC
203-276-9525
110 Lenox Avenue Stamford, CT 06906
CMG Property Management
203-255-4300
98 East Avenue Norwalk, CT 06851
Connecticut Property Care
203-202-7965
682 Boston Post Road Darien, CT 06820
DB Landscape
203-704-1640
471 Todd Road Wolcott, CT 06716
Fountain Terrace Condos
203-323-0173
71 Strawberry Hill Avenue Stamford, CT 06902
Greenwich Property Management LLC
203-869-0589
19 Idar Court Greenwich, CT 06830
HomeFront Property Management
203-220-6353
1583 Post Road, 2nd Floor Fairfield, CT 06824
Kirmar Property Management
203-570-5857
600 Steamboat Road Greenwich, CT 06830
New Canaan Property Management
203-273-1461
691 Old Stamford Roard New Canaan, CT 06840
Nizzardo Real Estate Services LLC
203-883-8532
1887 Summer Street Stamford, CT 0695
Paredim Communities
877-371-4525
1340 Washington Boulevard Stamford, CT 06902
Plaza Realty Management Corporation
203-359-4611
1010 Hope Street, 2nd Floor Stamford, CT 06907
Pro Property Management
203-909-6333
1087 Federal Road #7 Brookfield, CT 06804
Pyramid Real Estate Group
203-348-8566
20 Summer Street Stamford, CT 06901
Real Property Management Southern Connecticut
203-507-2300
40 Richards Ave, 3rd Floor, Suite 300 Norwalk, CT 06854
RMS Companies
203-968-2313
1 Landmark Square Stamford, CT 06901
Soundview Towers
203-327-3271
50 Glenbrook Road Stamford, CT 06902
The Ashforth Company
203-356-9985
707 Summer Street Stamford, CT 06901
The Property Group of Connecticut, Inc.
203-967-8337
25 Crescent Street Stamford, CT 06906
The Wm. M. Hotchkiss Company
203-772-3200
195 Church Street, 10th Floor New Haven, CT 06510
About PropertyManagement.com
PropertyManagement.com is an online resource for property owners with expert-advice and data-driven research about management of properties. The website provides a hand-picked list of the best property management companies across the nation. Users can also access free information and easy-to-use tools to help them make educated decisions about their investment property. For more information, visit propertymanagement.com.