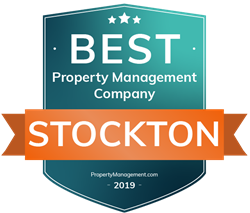 BELLEVUE, Wash. (PRWEB) December 17, 2019
PropertyManagement.com, a leading resource to help property owners identify reliable, trusted, and experienced property management services in the United States, has announced the 2019 Best Property Management Companies in Stockton, CA. The guide recognizes 19 top property management firms based on costs, customer rating, reliability, and experience.
PropertyManagement.com used a selection process that evaluated each company across 30 different metrics. After careful assessment of 86 property management companies in the Stockton, CA area, only 19 firms were selected for the final list. The research identified companies that scored the highest in outstanding customer reviews, credibility, high-level professionalism and more.
"Our goal is to help property owners make the most of their investments," says Joyce Collins, Recognition Manager. "A reputable property management company can help owners save time and money by advertising rentals, collecting rent, handling maintenance issues and responding to tenant complaints."
In addition to top picks for property management companies, the website also offers tips on rental marketing, tenant screening, liabilities, and a worksheet to keep track of income and expenses. For a detailed listing of the Best Property Management companies in Stockton, CA please visit: https://www.propertymanagement.com/companies-in-stockton-ca/
2019 Best Property Management Companies in Stockton, CA (in alphabetical order)
Associa Northern California
800-843-3351
10100 Trinity Parkway Stockton, CA 95219
Bevohn Real Estate Management
466-639-2209
165 W. Cleveland St. Stockton, CA 95204
BLR Commercial Real Estate
209-475-1980
2291 West March Lane Suite B-215 Stockton, CA 95207
Common Interest Management
209-507-7850
2800 W. March Ln. Stockton, CA 95219
Dick Stepken Realtor, Inc.
209-466-4043
2724 Pacific Avenue Stockton, CA 95204
Jones Lang LaSalle
209-390-1690
2800 West March Ln. Ste. 301 Stockton, CA 95219
Katzakian Property Management, Ltd.
209-957-6061
4623 Quail Lakes Dr. Stockton, CA 95207
Landmark Limited
209-472-3485
1776 W. March Lane, Suite 170, Stockton, CA 95207
Liberty Property Management
209-472-0934
3516 Deer Park Dr. Stockton, CA 95219
Majestic Property Management, Inc.
209-473-8300
3520 Brookside Rd., Suite 171 Stockton, CA 95219
Matteucci Property Management
209-951-7765
1341 W. Robinhood Dr., STE B6 Stockton, CA 95207
Metzger Management
209-956-9024
1044 Rivara Road, Ste 110A Stockton, CA 95207
Northgate Commercial
209-477-4400
1611 W. March Ln. Stockton, CA 95207
Property Management Experts
209-465-5000
200 W Harding Way Stockton, CA 95204
Real Property Management Central Valley
209-572-2222
601 14th St Modesto, CA 95354
Realty Roundup
209-477-1594
5405 N. Pershing Ave., #10 Stockton, CA 95207
Starr Property Management
209-478-4111
1545 Saint Marks Plaza #4 Stockton, CA 95207
The Garibaldi Company
209-955-0535
3525 W. Benjamin Holt Dr. Stockton, CA 95219
Werner Properties
209-944-9444
3138 Pacific Ave Ste A Stockton, CA 95204
About PropertyManagement.com
PropertyManagement.com is an online resource for property owners with expert-advice and data-driven research about management of properties. The website provides a hand-picked list of the best property management companies across the nation. Users can also access free information and easy-to-use tools to help them make educated decisions about their investment property. For more information, visit propertymanagement.com.