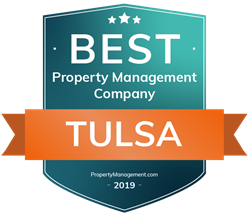 BELLEVUE, Wash. (PRWEB) November 28, 2019
PropertyManagement.com, a leading resource to help property owners identify reliable, trusted, and experienced property management services in the United States, has announced the 2019 Best Property Management Companies in Tulsa, OK. The guide recognizes 20 top property management firms based on costs, customer rating, reliability, and experience.
PropertyManagement.com used a selection process that evaluated each company across 30 different metrics. After careful assessment of 130 property management companies in the Tulsa, OK area, only 20 firms were selected for the final list. The research identified companies that scored the highest in outstanding customer reviews, credibility, high-level professionalism and more.
"Our goal is to help property owners make the most of their investments," says Joyce Collins, Recognition Manager. "A reputable property management company can help owners save time and money by advertising rentals, collecting rent, handling maintenance issues and responding to tenant complaints."
In addition to top picks for property management companies, the website also offers tips on rental marketing, tenant screening, liabilities, and a worksheet to keep track of income and expenses. For a detailed listing of the Best Property Management companies in Tulsa, OK please visit: https://www.propertymanagement.com/companies-in-tulsa-ok/
2019 Best Property Management Companies in Tulsa, OK (in alphabetical order)
Accent Property Management Services, Inc.
918-991-6722
4625 South Harvard Ave., Ste 100 Tulsa, OK 74135
Bailey Properties
918-494-2600
5103 S. Sheridan Road Ste. 313 Tulsa, OK 74145
Bailey-Foristell
918-599-0884
1220 S. Galveston Tulsa, OK 74127
Bryan Properties
918-437-0277
12504 E 21st St. Tulsa, OK 74129
Case & Associates
918-610-9369
4200 E. Skelly Drive, Suite 800 Tulsa, OK 74135
First Commercial Real Estate Services Corporation
918-921-1677
8301 E. 74th Pl. Tulsa, OK 74133
Home Life Leasing & Property Management
918-587-6916
5103 S. Sheridan Road Ste. 313 Tulsa, OK 74145
Homeworx
918-796-9679
1831 E 71st St, Suite 300 Tulsa, OK 74136
John Hausam Property Management & Leasing
918-492-8700
8988 S. Sheridan Rd, Suite J Tulsa, Ok 74133
Keyrenter Tulsa Property Management
918-351-7000
110 S. Hartford Ave, Suite 2502 Tulsa, OK 74137
McGraw Realtors
918-592-6000
4105 S Rockford Avenue Tulsa, OK 74105
Price Family Properties
918-605-9130
15 E. 5th St., Ste. 400 Tulsa, OK 74103
Properties Plus
918-488-8880
7040 S Yale Ave Tulsa, OK 74136
Property Frameworks
918-516-5131
8018 S Memorial Drive Tulsa, OK 74133
Real Property Management Tulsa
918-532-7020
4833 S. Sheridan RD, Suite 400 Tulsa, Oklahoma 74145
Renters Place
918-728-8080
7170 S Braden Ave., Unit #140 Tulsa, OK 74136
Reynolds Realty
918-622-2920
5350 E. 46th. St. #147 Tulsa, OK 74135
TMC Property Management
918-602-4220
4343 S. 109th E. Ave. Tulsa, OK 74146
Tulsa Property Group Leasing & Management
918-665-0212
5401 South Sheridan Rd #108 Tulsa, OK 74145
Vicki Berg
918-664-5756
4322 E 51st Street, Ste 102 Tulsa, OK 74135
About PropertyManagement.com
PropertyManagement.com is an online resource for property owners with expert-advice and data-driven research about management of properties. The website provides a hand-picked list of the best property management companies across the nation. Users can also access free information and easy-to-use tools to help them make educated decisions about their investment property. For more information, visit propertymanagement.com.