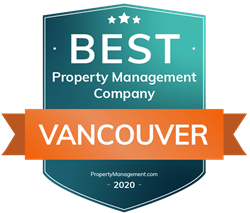 BELLEVUE, Wash. (PRWEB) April 20, 2020
PropertyManagement.com, a leading resource to help property owners identify reliable, trusted, and experienced property management services in the United States, has announced the 2020 Best Property Management Companies in Vancouver, WA. The guide recognizes 24 top property management firms based on costs, customer rating, reliability, and experience.
PropertyManagement.com used a selection process that evaluated each company across 30 different metrics. After careful assessment of 158 property management companies in the Vancouver, WA area, only 24 firms were selected for the final list. The research identified companies that scored the highest in outstanding customer reviews, credibility, high-level professionalism and more.
"Our goal is to help property owners make the most of their investments," says Joyce Collins, Recognition Manager. "A reputable property management company can help owners save time and money by advertising rentals, collecting rent, handling maintenance issues and responding to tenant complaints."
In addition to top picks for property management companies, the website also offers tips on rental marketing, tenant screening, liabilities, and a worksheet to keep track of income and expenses. For a detailed listing of the Best Property Management companies in Vancouver, WA please visit: https://www.propertymanagement.com/companies-in-vancouver-wa/
2020 Best Property Management Companies in Vancouver, WA (in alphabetical order)
4 Elements Property Management LLC
877-404-4376
2000 East Laurel Place Vancouver, WA 98661
Blue Key Property Management Inc
360-524-4994
7017 NE Highway 99, Suite 216 Vancouver, WA 98665
Columbia Commercial LLC
360-735-8001
9120 NE Vancouver Mall Loop, #210 Vancouver, WA 98662
Dove Property Management
360-448-2851
15609 SE Mill Plain, #300 Vancouver, WA 98684
EKM Property Management
360-989-6306
Vancouver, WA 98662
G & G Property Management Inc
360-694-7750
3813 H Street Vancouver, WA 98663
Ginn Property Management
360-907-9712
11202 NE 20th Street Vancouver, WA 98684
GMLC Property Management
360-896-5013
3510 Kauffman Avenue, #E Vancouver, WA 98660
Invest West Management
360-254-5700
12503 SE Mill Plain Boulevard, Suite 260 Vancouver, WA 98684
Key Property Services, Inc.
360-695-1538.
7710 NE Greenwood Drive, Suite 150 Vancouver, WA 98660
Northwest Management Exclusive Inc.
360-892-8798
11715 NE Crestwood Drive Vancouver, WA 98684
Personal Property Management & Consulting LLC
360-574-3201
301 E. McLoughlin Boulevard Vancouver, WA 98663
Premier Property Management Inc
360-546-1554
1401 SE 163rd Avenue Vancouver, WA 98683
Proactive Property Management
800-571-8062
4200 SE Columbia Way, Suite F Vancouver, WA 98661
Quantum Residential
360-696-9000
601 E 16th Street Vancouver, WA 98661
Real Property Management Services
360-693-6260
5620 NE Gher Road, Suite H Vancouver WA 98662
Real Property Management Vancouver
360-883-4881
15640 NE 4th Plain Road, Suite 112 Vancouver, Washington 98682
RealVest Corporation
360-694-6000
205 E 11th Street, Suite 200 Vancouver, WA 98660
Sunworld Group
360-574-0210
9901 NE 7th Avenue, Suite C119 Vancouver, WA 98685
The Phillips Group Inc.
360-694-1031
310 West 11th Street Vancouver, WA 98660
Utmost Property Management
360-614-3016
1905 SE 192nd Avenue, Suite 203-B Camas, WA 98607
Wise Move Property Management
360-771-1517
310 NE 5th Avenue Camas, WA 98607
YQC Properties LLC
360-972-7972
211 E 11th Street Vancouver, WA 98660
Zenith Properties NW LLC
360-696-3111
1498 SE Tech Center Place, #170 Vancouver, WA 98683
About PropertyManagement.com
PropertyManagement.com is an online resource for property owners with expert-advice and data-driven research about management of properties. The website provides a hand-picked list of the best property management companies across the nation. Users can also access free information and easy-to-use tools to help them make educated decisions about their investment property. For more information, visit propertymanagement.com.