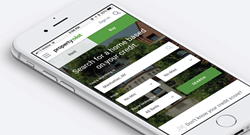 Our site helps consumers understand what is needed to improve their chances of getting their choice apartment.
BROOKLYN, N.Y. (PRWEB) January 24, 2019
New Yorkers now have a faster and smarter way to find their dream home with PropertyNest. For the first time, nest seekers can use their credit score to find qualified matches for rental apartments and homes for sale.
The PropertyNest website features both rentals and sales properties available on the New York market using the consumer's credit score to find best matches based on the vetting process for each property, which includes income, credit score, and savings among other financial qualifiers.
Unique to PropertyNest is a groundbreaking algorithm that calculates each individual's likelihood of getting approved based on their credentials and the standards set up by those landlords and management companies.
The site also offers a wealth of practical information on renting, buying, and improving personal financing to get that dream apartment. In addition, users can browse neighborhood guides and compare possibilities by location for their budget.
"The PropertyNest mission is to create transparency in the real estate market. We educate New Yorkers about their credit score as the foundation for their house and apartment hunt. We also help real estate agents, landlords, and management companies connect with pre-qualified buyers and renters," said Ruth Shin, CEO of PropertyNest.
With over 7,000 leases signed in just the summer of last year in New York, the majority of applicants lose out on their first choice apartment because they either don't have an understanding of the qualifications or they're not ready with their paperwork. The goal of PropertyNest is to eliminate the uncertainty and prepare each consumer and give them an understanding of their credit and income.
"Working in real estate, it was baffling to see how many home seekers (even seasoned New Yorkers) who did not know their credit score or understand the application process. They browsed listings based on their dream features thinking all they'd have to do was fill out an application or put down a deposit. Others simply did not qualify."
An industry first, with PropertyNest users are also able to find valuable information on how to qualify for the properties if home seekers fall below the requirements.
"Our site helps consumers understand what is needed to improve their chances of getting their choice apartment. Armed with that knowledge, we further want to connect them with the resources and tools that will help them start improving their credit right away by working with third-party partners. Working to help build their credit is crucial for other life decisions. This is why the sales portion is just as important. Many current renters can be future homeowners and we want to help them understand that and walk them through that process." added Shin.
About PropertyNest
PropertyNest is a one-stop shop for real estate needs in New York. Based on a proprietary algorithm, the site helps New Yorkers rent or buy a new home based on their credit score and the features they most want. Users get tips and insights on how to improve their credit, how the rental or sales process works, how to apply for a mortgage, and how to beat out the competition. The site also offers full neighborhood guides and insider expertise from real estate professionals.
For more information, go to propertynest.com
Related links:
http://www.propertynest.com
https://www.propertynest.com/about
https://www.propertynest.com/contact