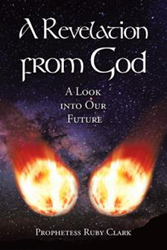 BELZONI, Miss. (PRWEB) November 19, 2018
Prophetess Ruby Clark has written a book to expand readers' knowledge and broaden their understanding about what is going on around them both spiritually and naturally. Inspired by God, she has written "A Revelation from God: A Look into Our Future" (published by LifeRich Publishing).
The book tells readers plainly about the things that are happening in, "the last days of earth's history," according to Clark. It gives a bird's-eye view of all the things that God has told humanity would happen. Included in the book is God's final judgment upon man and the fallen angels.
"Understanding this book will help you with the practical and applicable appliance of knowledge gained in reading it," Clark says. "You will know for sure that compliance to God's Word is not optional; it is a command."
"A Revelation from God: A Look into Our Future" aims to make readers understand that every day is to be lived with purpose and focused on what is truly important, with their eternal destiny always in the forefront of their minds.
For more details about the book, please visit https://www.amazon.com/Revelation-God-Look-into-Future/dp/1489718281.
"A Revelation from God: A Look into Our Future"
By Prophetess Ruby Clark
Hardcover | 6 x 9in | 108 pages | ISBN 9781489718303
Softcover | 6 x 9in | 108 pages | ISBN 9781489718280
E-Book | 108 pages | ISBN 9781489718297
Available at Amazon and Barnes & Noble
About the Author
Prophetess Ruby Clark has a bachelor's degree in theology and certificates in homiletics and hermeneutics. She has worked with skilled teachers and ministers, and her own ministerial journey has taken her into nursing homes, prisons, retreats and private homes; she has also been a street evangelist, and she has served in the office of an evangelist for over 20 years, and in the office of a prophet for over 18 years. Clark now lives in Silver City, Mississippi, where she serves as a Sunday school teacher and intercessory prayer leader, heads the evangelistic ministry and serves on the ministerial staff of The Upper Room Fellowship Ministries, in Belzoni; she also serves as chaplain and treasurer of The United Churches for Christ on the Move. Clark is the mother of four grown children, and her heart's desire is to see as many people saved as possible.
LifeRich Publishing, the strategic publishing partnership of Reader's Digest and Author Solutions, LLC, was created to provide all writers a platform for sharing their stories, recipes, advice and more. LifeRich authors will benefit from a wealth of editorial design, marketing and education resources, specially created by Reader's Digest editors for the enrichment of these LifeSmart individuals. Books can be published in print, ebook or audio formats, with additional distribution to up to 25 million Reader's Digest customers through its online properties. Follow @LifeRichPub on Twitter or "Like" us at facebook.com/LifeRichPublishing for the latest updates.