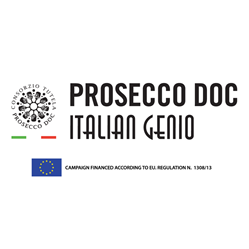 NEW YORK (PRWEB) August 02, 2022
The Prosecco DOC Consortium, the entity that oversees the production of the world's most popular sparkling wine, is thrilled to share the results of the fifth annual National Prosecco Week (NPW) that took place on July 18-24, 2022.
Like the previous editions, this year's celebration was produced in conjunction with Colangelo & Partners with a goal of raising awareness between trade professionals, media and consumers about Prosecco DOC and the recently introduced Prosecco DOC Rosé category. Both categories were included in national retail, ecommerce, and restaurant promotions with over 1,000 retail stores and restaurants, including Buy Rite, Twin Liquors, Total Wines & More, ABC Fine Wine & Spirits, Liquor Barn and many more. Together with the ecommerce platform City Hive, this year National Prosecco Week also includes over 1,100 online wine merchants, connected through the ecommerce platform powered by City Hive in service of the Casa Prosecco Online store, which enabled consumers to search for and purchase the largest selection of Prosecco DOC and Prosecco DOC Rosé from local and national retailers for delivery to their door.
"We are very proud of the fifth annual National Prosecco Week's results, finally with more in-person opportunities and chances to toast together to our glorious denomination" commented Stefano Zanette, President of the Prosecco DOC Consortium. "We keep working on building the momentum from last year and connecting with more retailers, strategic partners and ultimately more Prosecco lovers in the U.S."
To drive consumer awareness, the 2022 campaign incorporated a robust digital and social media marketing campaign in strategic partnership with Thrillist, influencer activations, dynamic social media content and targeted media relations.
The fifth annual National Prosecco Week also featured a renewed focus on consumer events & sponsorships, with two programmed events, organized in collaboration with CRU LUV in Chicago on Wednesday, July 20th, 2022, and in New York City, on Saturday, July 23rd, 2022. The events combined a unique mix of Prosecco DOC and Hip-Hop music as part of creator Jermaine Stone's acclaimed "Pass the Aux" event series. For more information visit our website.
The two events combined gathered over 200 consumers to engage with Prosecco DOC and learn about its authenticity and while Instagram Influencer partnerships resulted in 37 total partners with 230 pieces of content and almost 800k followers organically reached.
This year's edition also included a spectacular visual activation on one of the biggest New York City Times Square's billboards, where 4 evocative videos about Prosecco DOC and Prosecco DOC Rosé rotated for 24hrs a day for the entirety of National Prosecco Week (7/18-7/24). Click here for photos and videos.
The growing success of NPW year over year is a clear sign that the denomination is trending in the right direction and that Americans are consuming Prosecco more than ever before. In fact, according to a recent research carried out by Nomisma, Prosecco DOC enjoyed particular success in the US, seeing its exports by volume rise to 25.5 million gallons – an increase of 44.3% in 2020 and 40.3% in 2019. The total export volume of Prosecco in 2019 was 17.6 million gallons. The research also identifies Prosecco DOC Rosé as a key driver of the wider DOC's growth in 2021, with 71.5 million bottles produced last year.
Visit the official website for more information and a recap of National Prosecco Week 2022, and follow Prosecco DOC on Facebook (@proseccodocusa) and Instagram (@proseccodoc_usa).
About The Prosecco DOC Consortium:
Prosecco DOC wines come in Spumante (sparkling), Frizzante (semi-sparkling) and Tranquillo (still) varieties. The wines are made from mainly the Glera grape, native to North East Italy for thousands of years, and can be combined with a maximum of 15% of the following grapes: Verdiso, Bianchetta Trevigiana, Perera, Glera lunga, Chardonnay, Pinot Bianco, Pinot Grigio and Pinot Nero. Prosecco Frizzante and Spumante varieties get their famous bubbles using the Secondary Fermentation production method, bottled under high pressure after fermentation in bulk tanks called autoclaves, as opposed to the traditional method, which bypasses the autoclaves and is used for other sparkling wine varieties. The end result is a brilliant straw yellow wine with fine, persistent perlage and aromas of white flowers, apple and pear. It is fresh and elegant on the palate with moderate alcoholic strength.
From August 11, 2020, the competent bodies (Italian Ministry of Agriculture) have allowed the production of Prosecco DOC Rosé, made from at least 85% Glera and 10-15% Pinot Nero only in the Spumante (sparkling) version and with the drier styles (from Brut Nature to Extra Dry). Prosecco DOC Rosé undergoes a longer second fermentation in the autoclaves (60 days as opposed to 30 days for Prosecco DOC), has a pale pink color and a fine and persistent perlage, and features aromas of white flowers, notes of apple and citrus, and scents of strawberry and raspberry. For more information regarding Prosecco DOC and Prosecco DOC Rosé, visit http://www.casaprosecco.com.