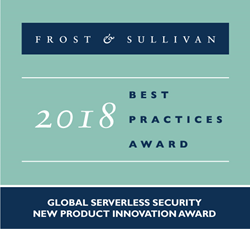 Protego Labs offers a holistic and automated approach to serverless security that we believe will feed the pace of serverless adoption.
BALTIMORE (PRWEB) December 18, 2018
Protego Labs announced today that it received Frost & Sullivan's 2018 Global New Product Innovation Award. This award is one of Frost & Sullivan's Excellence in Best Practices Awards which are presented annually to companies that are predicted to encourage significant growth in their industries, have identified emerging trends before they became a marketplace standard, and have created advanced technologies that will catalyze and transform industries.
"Protego Labs' platform was designed specifically for the unique challenges of serverless security. Backed by continuous research and born in the cloud, Protego Labs offers a holistic and automated approach to serverless security that we believe will feed the pace of serverless adoption," said Michael Suby, Stratecast Vice President of Research at Frost & Sullivan. "For these reasons, Protego Labs has earned our new product innovation award in serverless security."
Protego Labs' platform offers full life-cycle security to serverless applications from deployment to run-time and can be up and running in just 20 minutes. It works by continuously scanning a company's serverless infrastructure, including functions, logs, and databases, to help increase the application's security posture and minimize the attack surface. Using machine-based analysis and deep learning algorithms, Protego Labs builds a model of normal function behavior to effectively detect threats, anomalies, and malicious attacks as they initiate and propagate.
"As an innovator in the serverless security space, we've been working with companies to help them drive serverless application adoption with security technology that was built from the ground up for the unique opportunities and challenges of serverless, " said TJ Gonen, CEO and cofounder, Protego Labs. "It's an honor to be recognized by Frost & Sullivan for this work."
Recently, Protego Labs launched a free version of its serverless security solution—complete with all functionality—enabling companies to build secure applications from the get-go and save time by automating complex tasks such as configuration of function permissions. The company also spearheaded the Open Web Application Security Project (OWASP) Serverless Top 10, a report designed to be a first look into the leading risks in serverless security and to serve as a baseline for official OWASP Serverless Top 10.
Earlier this year, Protego Labs won the Startup Competition for the most innovative cyber initiative at the Cybertech Tel Aviv Conference, was named a Company to Watch by SDTimes Magazine, and is currently nominated for Best Cybersecurity Startup in the Cyber Excellence Awards.
About Protego
Recognizing the inadequacy of traditional application security paradigms, Protego Labs designed the first comprehensive solution built with the unique constraints and opportunities of serverless in mind. Through continuous serverless security posture, dynamic serverless intelligence, and elastic defense, Protego helps organizations achieve control over the security of their applications. For more information, visit https://www.protego.io/.
About Frost & Sullivan
Frost & Sullivan, the Growth Partnership Company, collaborates with clients to leverage visionary innovation that addresses the global challenges and related growth opportunities that could make or break today's market participants. For more than 50 years, Frost & Sullivan has been developing growth strategies for the global 1000, emerging businesses, the public sector, and the investment community. Visit https://ww2.frost.com/ to learn more.