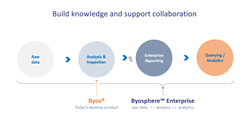 Byosphere solves an essential problem for biotherapeutic research, development, and production.
CUPERTINO, Calif. (PRWEB) September 08, 2020
Protein Metrics Inc., a leading provider of desktop mass spectrometry software for protein characterization, announced today the launch of Byosphere™ Enterprise Platform that combines biotherapeutic mass spec data, analysis, and reporting in one environment.
"Byosphere solves an essential problem because typical tools such as ELNs and LIMs cannot handle large, data-rich LC/MS files," said Eric Carlson, Ph.D., President and CEO of Protein Metrics. "LC/MS data produces some of the most valuable data possible for biotherapeutic research, development, and production. Byosphere will let organizations curate, interrogate, and share that information swiftly and easily for better decision making in less time."
Byosphere includes Protein Metrics' leading desktop software, Byos®, which has been adopted by hundreds of organizations worldwide.
The new platform is already implemented with world-leading biotherapeutic developers. Deployable on premise or in the cloud, Byosphere supports collaboration across teams, projects, and geographies and strengthens an organization's biotherapeutic knowledge and productivity. Customers can also use the same platform in GxP or non-GxP environments.
"We're thrilled to provide our leading protein analysis solution for enterprise customers, who can now ask deeper questions of their data and use if for advanced analytics," says Carlson. "We designed Byosphere to integrate easily with existing ELN and LIMS systems and to scale efficiently across one site or many."
About Protein Metrics
Protein analysis should never be limited by software. With a clear focus on protein characterization, Protein Metrics' vendor-neutral software allows scientists to use data generated on analytical instruments like mass spectrometers to quickly identify and report protein sequences as well as any variations from the expected form. We innovate so that biopharmaceutical companies and university research labs can achieve confident results from their analysis and reporting. With our customers, we are boldly advancing protein characterization. Protein Metrics is headquartered in Cupertino, CA at the crossroads of computing and biotechnology in the San Francisco Bay Area. For more information, visit http://www.proteinmetrics.com.