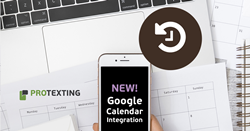 Easily manage your appointments with ProTexting and Google Calendars!
PLANO, Texas (PRWEB) May 30, 2019
ProTexting CEO Kalin Kassabov explains, "Scheduling is one of the most important aspects of SMS marketing. Now, instead of the clunky scheduling of messages one by one for many future dates, our users will be able to simply click into Google Calendar on their screen and type in the message for that date and hour directly on the calendar."
This feature will be especially useful for businesses where scheduling plays a major role, such as in the health professions. Doctor and dentist offices will now be able to schedule appointment reminders and send them out via SMS to patients. Spas and salons, along with any business where clients make appointments, will also be able to benefit from this new feature.
"ProTexting has always understood the importance of efficient scheduling for our clients," says Kassabov. "To achieve optimal results, it's important to send out text messages consistently and at the appropriate time. We already have features that support this, such as an app for scheduling recurring text message campaigns. With this new integration, we're making it even easier. Now people can send out messages as part of their daily routine by simply putting them into Google Calendar."
ProTexting is a leading provider of SMS marketing services, offering clients a comprehensive suite of features and apps for helping businesses engage with their customers. Businesses of all types use ProTexting's services to send customers updates, coupons, reminders, and other types of communication. Additionally, non-profits, universities, churches, and other organizations use the services to stay in touch with volunteers and members.
Contact: Kalin Kassabov, CEO ProTexting
7700 Windrose Ave, Suite G300
Plano, TX 75024
Phone: (800) 258-9115
Email: media@protexting.com