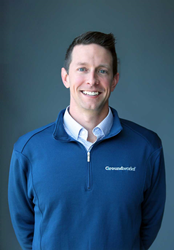 "John brings with him the experience of successfully leading growth for large organizations and as we continue our monumental growth, we will ask so much of his Teams and we are excited with his ability to lead them to new heights."
VIRGINIA BEACH, Va. (PRWEB) October 16, 2020
Groundworks Companies®, the nation's largest privately held foundation services company, today announced that John Thornton has been hired as Chief Marketing Officer (CMO). His extensive background in digital marketing and growth development make him uniquely qualified to lead Marketing, Customer Care, and Customer Experience.
"I am excited to join the Groundworks tribe. This company has a culture unlike any other I have experienced. The dedication to providing the best solution for homeowners makes them stand out in the crowded home services industry," stated John Thornton. "There is a winning attitude amongst these very talented Teams. I look forward to helping propel the company and all of my teammates forward."
Most recently, John was the Vice President of Growth for Cars.com out of Chicago. While at CARS, John led six consecutive quarters of industry-leading growth driving the network of automotive sites to record traffic volume. Prior to his time at CARS, John led Performance Marketing for Rentpath and its network of brands including ApartmentGuide.com, Rent.com and Rentals.com. John established himself as a thought leader in local and home services at Google. There he was recognized as a Gold Award Winner within Google's Global Business Organization. John has over a decade of marketing leadership and sales growth experience. John received his MBA from Kellogg School of Management at Northwestern University after completing his bachelor's degree at the University of Virginia. While attending the University of Virginia he was a member of the football team.
"We had a critical task of finding the right person to lead a vital part of the Groundworks family and cannot be more pleased with the result of bringing John on board. His track record of achievement is something that perfectly aligns with the Groundworks expectation of excellence," said Matt Malone, Groundworks CEO. "John brings with him the experience of successfully leading growth for large organizations and as we continue our monumental growth, we will ask so much of his Teams and we are excited with his ability to lead them to new heights."
John is a native of Richmond, VA. When asked how he spends his free time he expressed the fact that his time and that of his wife is dedicated to his 18-month-old daughter. John is an athlete at heart having played basketball and football and looks forward to the day he can get back on the court. John will be based in the Virginia Beach, VA headquarters.